At the launch event for Refresh Botanicals, principal ballerina Heather Ogden explained that even she had to recently adjust her daily routine. As a new mom, you would think she would tell you that she has very little time for herself and that would make her change up how she does things. But while this may be true, she also pointed out what she puts on her body is equally as important as what she puts in. What she's realized is that whatever choices she makes, she now also needs to considers what she's also exposing her baby too.
"My life has mostly been about dance, dance, dance," says Heather "And now with a baby my life has totally change. My body, my shoes, my life have changed and for the good, of course! I've changed my whole routine."
Heather explained that while she was pregnant, she was conscious of eating healthy and wanting all-natural products for her body. Now that she's a new mom, that need hasn't changed. Part of why she is now using Canadian made Refresh Botanicals is that she appreciates the back to nature approach the company takes. Plus, Heather added, there are no overpowering scents which is appealing when her daughter is next to her skin.
The company was started as an idea from Canadian farmers. They knew that Canada has an abundance of natural resources and they wanted to tap into what the country is blessed with along with other natural ingredients found around the world. They wanted to make the line not only good for you, but also at a more accessible price point. Why not make great products and be able to offer it to more people? I like that thinking! Personally, I believe that good stuff shouldn't just be in a luxury market but rather we all are deserving of the best that we can get.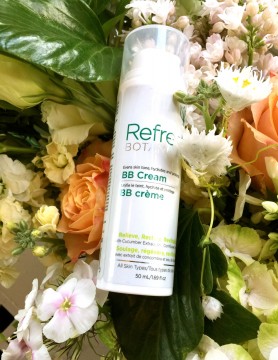 Heather's favourite picks from the line include the natural and organic Foaming Facial Cleanser ("I find the cucumber extract gives my skin a little zing that feels great") as well as the company's BB Cream that is perfect for those who have little time on their hands and want a great all-in-one that evens out skin tone, hydrates and protects. "I try my best to have my skin look great. I find if I'm at the studio all day I just prefer something light on my skin. This is a great product!"
I would also recommend for pregnant women to switch out their Retinol creams for a healthier alternative in the Refresh Botanical Night Restore Complex.
What I love about this line is that it meets the criteria of choosing cleaner and healthier (that is, it's all-natural, organic, no parabens, no gluten, no artificial fragrances and Canadian, yay!). And when you read the labels, the products contain ingredients that you understand and know. Cucumber extract and cornflower water is a common theme throughout the line.