DISCLAIMER: Some of the details in this article may be disturbing for some readers.
A lot of humanity has shown their true colours this week. After the announcement of Robin Williams' death, many of us reacted with sadness, remembering and celebrating the man who made us laugh for so many years.
And then there was a small group of people (because there always has to be a smaller group of people) that handled it with a disgusting lack of sympathy. Let's review, shall we?
As most of you probably already know, Williams' daughter Zelda Williams abandoned her social media accounts yesterday after extreme cyberbullying that took place on her Twitter account. For those who didn't catch the story, at least two users by the names of @PimpStory and @MrGoosebuster, sent Zelda disturbing photoshopped images of her father's dead body along with other hate messages. Some even went so far as to blame her for his suicide.
Hundreds of users came to Zelda's defense, but as you can imagine, the damage was already done. In a tweet she later deleted, Zelda said she was left "shaking" with the online abuse.  She later announced that she was taking an indefinite break from social media, so she could heal.
Del Harvey, Twitter's Vice President of Trust and Safety said Twitter will be taking new measures to protect it's users and prevent incidents like this one from happening again. "We have suspended a number of accounts related to this issue for violating our rules and we are in the process of evaluating how we can further improve our policies to better handle tragic situations like this one," he said.
See what I mean? That's pretty low, even for internet trolls.
Someone else who didn't handle William's suicide so well? The New York Daily News. Their front page cover featured the graphic details of Williams'  confirmed suicide. It looked a little something like this: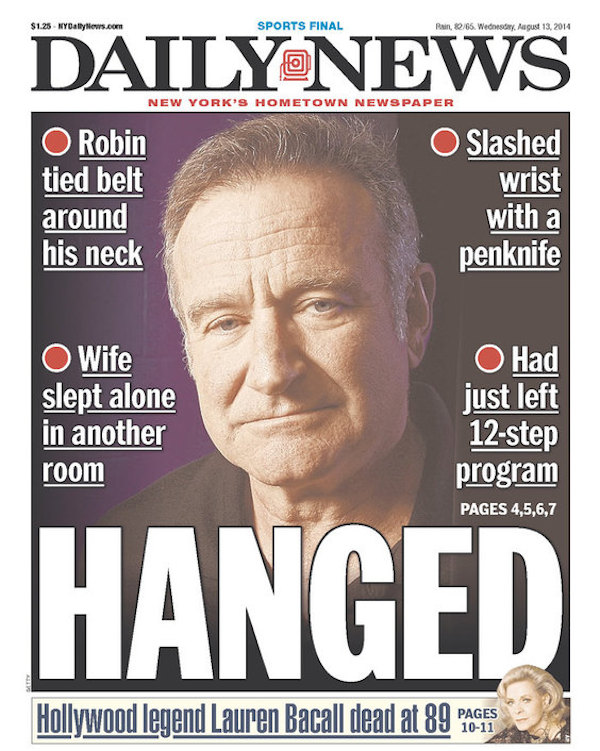 The cover includes some of the most graphic details regarding Williams' death which shows NY Daily News' complete disregard to his fans who might not want to know the gory details.  That's why we put a disclaimer in this article. I know a lot people out there don't know the specific details and would rather not know. Something NY Daily should have thought about before running this cover.
And on top of that, NY Daily decided to only focus on his suicide. No where does it say he was a beloved actor or one of the best comedic geniuses of our time. No. Instead they have one that says, "Wife slept in another room." I'm sorry, but whether she did or she didn't is none of our business.
Luckily,  Alan Scherstuhl and his friends at the The Village Voice felt the same way most of us did when they saw this terrible cover. So they decided to "revamp" it, changing up the headlines into something positive. We give them a virtual high-five!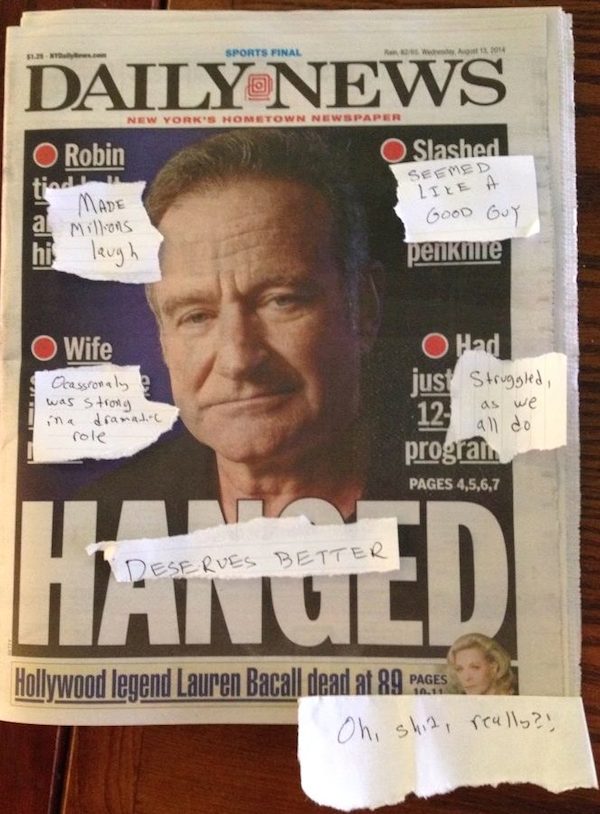 So although we've seen some of the worst responses to Williams' death the past couples of days, we've also seen some of the best and most uplifting as well.
Humanity: 1 Haters: 0.