We're big fans of beauty serums here in the office. But what are they, really?
If you're goal is to target a specific need (or want) when it comes to facial needs, a serum may just help. Serums are concentrated skin care products that are created to take care of specific needs like hydration, colour correction, decreasing lines and wrinkles and so much more. They come in small bottles because a little goes a long way. Most concentrates will suggest you use the products at night when your skin can take the time to recover from the stresses of the day. When you feel the need (like I do now for hydration in the winter months) use the serum in the morning as well but check the labels.
Serums are mostly water-based so the concentrated ingredients are more easily absorbed by the skin. They don't contain moisturizer or thickening properties like lotions do, so the active ingredients can do their work more effectively. Moisturizers can be worn on top if needed, or as recommended by the brand, but I tend to only apply moisturizers in the morning.
While prices vary, you can find serums at your local beauty store; you'll also be able to find one to fit every budget. The key here is to focus on what your needs are. I recently had wind burn on my face (I hate winter) and used the Avene product (see below) and with the extreme sensitivity I was experiencing, I also used the Avene XeraCalm A.D. to take care of the itching sensation. Here are a few serums that are definitely worth noting….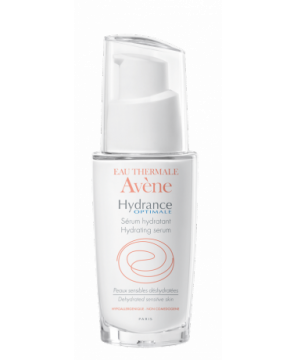 Avene Hydrance Optimal Soothing Hydrating Serum
This intense soothing and hydrating serum from France is amazing for sensitive skin, irritated or weakened by external factors like stress, pollution, climate and even from trying other products gone wrong. This highly concentrated serum calms irritated skin using Thermal Spring Water to help rebalance the skin.
Popular for good very good reasons, the antioxidant combination delivers advanced environmental protection against photoaging by neutralizing free radicals that accelerates signs of aging. The serum increases firmness and replenishes lipids to visibly reduce wrinkles. C E Ferulic has serious staying power too! It can't be rubbed off or washed off and remains effective for at least 72 hours.
Philosophy When Hope Is Not Enough Facial Firming Serum
This will help reduce the first signs of aging and helps protect skin against future signs of aging. Antioxidants in this serum helps improve texture, brighten and hydrate the skin while improving the appearance of any fine lines that may start to appear. You may be in your early 30s but it's not too early to take control.
Made with 100% natural oils, this serum has a non-oily finish and your skin seriously soaks it all in. Used for improving skin's tone and radiant. Notable ingredient here is organic Immortelle flower from Corsica that is great for anti-aging.
A rich serum that provides anti-aging antioxidant power. This antioxidant and vitamin rich blend includes carrot seed, coffee berry, pomegranate, and sea buckthorn. Great for dry and mature skin. Great for healing.
This serum is created with the cold-pressed oil of 50 pounds of Canadian berries, a rich source of polyphenol antioxidants and anthocyanins that may help reduce stress on the skin. It also includes Raspberry Seed Oil that apparently is great for conquering blemishes.
Infused with sea buckthorn extract and vitamins, this serum helps against the aging process and helps repair skin damage at the cellular level. Promotes youthful skin tone and texture Sea Buckthorn is a well known natural ingredient used by native Tibetans for centuries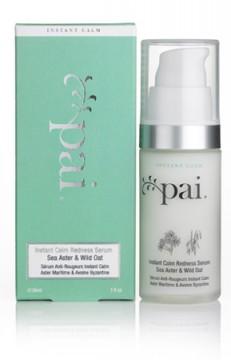 Pai Skincare Sea Aster & Wild Oat Instant Calm Redness Serum
An organic skincare line form the UK is well-loved by celebrity make-up artists and A-list stars. Certified organic line designed for sensitive skin. This serum helps restore calm to reactive skin and reduces appearance of redness while stimulating the skin's natural production of collagen and elastin to plum skin and smooth the appearance of fine lines.  Sea Aster helps keep control skin flare ups and strengthens surface blood vessels. Wild Oat is great for calming skin and has natural anti-histamine and anti-inflammatory properties. Great for those who also deal with Rosacea.
Are you using any beauty serums? Any favourites that I haven't listed here?