I'm handsy. C'mon, not like that. (Okay, sometimes yes…) But I mean I physically touch people often. All the time. Montreal being the kind of city that it is calls for the two-cheek kiss, and we often embrace when we meet. I find I rather like the practice, which is widely accepted, and in fact, often expected.
I like touching people with my hands. It lends a sense of connectedness, even if only for a brief moment – in passing, or even in jest, while being playful. But it's also with purpose. It is so I can feel you. Like holding hands while we talk about trickier things. The words intimate and sexual are not always synonymous.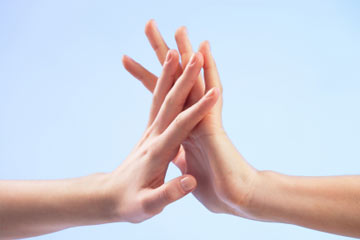 I've been quite the scooter ninja all summer long, which means my hands have been busy gripping foam handlebars. No fooling around – I don't want to kill myself by trying to ride the thing one-handed, but it keeps me solitary. Add big sunglasses, and even bigger headphones, and suddenly I'm inside my own glamourous and ridiculous bubble. It's a bit like being in a car, I suppose, only not quite as isolating. (And waaaay more fun.) Last week I walked around the city, more than I had in a long while. I notice how much being pedestrian changes the way I receive people, physically.
* * *
My neighbourhood-guy-on-the-corner was busily chatting with someone as I walked passed him the other day, so as I sauntered past, I reached down and just squeezed his pinkie without breaking stride. He looked down at his hand, and then up again, and saw me smiling at him as I waved a hand over my shoulder. His gave me one of his super-broad, killer smiles and waved back. I knew I'd probably pass him on my way home again, so I didn't stop.
I made a lazy mental calculation of how many people I put my hands on during my time out… twelve.
Tiny gestures sometimes mean a lot.
In the grocery store, I put my hand on the elbow of a cashier walking by. She looked back and smiled, recognising me. I've been shopping in this place for years.
Her eyes searched me left and right. "Ou sont tes enfants?"
"A l'ecole," I replied with a big smile, and I did a little jiggety-jig in front of her, kicking my feet around. She laughed and reached back to put a hand on my arm before we each walked our respective ways. I don't know her name, but I've seen her easily once a week for the last ten years or so.
I made a lazy mental calculation of how many people I put my hands on during my time out… twelve. Three people in the grocery store, and four others in the store before, a guy at the wine shop, a janitor at the Montreal Forum (who never minds when I ride my scooter indoors), a cashier at the pharmacy, and elderly woman I held the door for (though she touched me first), and my neighbourhood-guy-on-the-corner, Michel.
It's important to put into practice one's sense of empathy.
When I walked past him on my way home, he stopped me with another arresting smile and said, "Hey… you're back!"
"Yes! Well, errands you know… and I have to pick up the kids, shortly."
He smiled right into my face. "You touched me before. On the hand," His face looked surprised. Delighted, even.
"I did!"
"That's so great," he mused, shaking his head a little. "People don't really touch other people, you know." He looked me in the eye and smiled.
I cocked my head and smiled back, thoughtfully. "Don't they?" Of course, I know he's right. No, they don't.
"Especially guys like me," he added, soberly.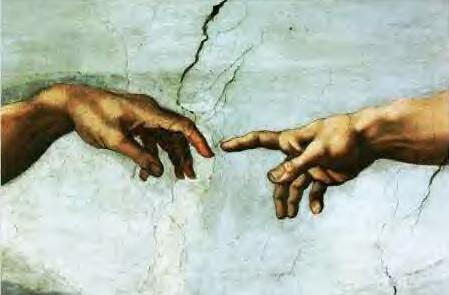 I don't suppose many people really give a lot of consideration to the neighbourhood-guy-on-the-corner very often, much less actually touch him. I imagine days and days could pass without him coming in contact with the skin of another's. At least, not the kind with any intention. But to be fair, it's easy to do in this case – he doesn't have leprosy, or anything. He's not sleeping in a doorway. It's important to put into practice one's sense of empathy. And anyway, I've know him for quite some time.
But I didn't know what to say, and I didn't have any money for him that day, either. So I grabbed him by the hand again, and just squeezed it. "See you again soon, man. Be well."
He giggled. "I just… love you, Tracey." He stood there smiling at me, and I just smiled back, giggling too and shaking my head. I mean, what a kind-hearted thing to say to another person.
"Thanks, Michel… wow." I turned to go and added, "I'll see you soon!" I smiled all the way home.
I get filled up by the touches and kindnesses of others. Especially when done with a smile – it immediately strips away any sense of pretence, and one can feel genuine affection. I have no thoughts about reining that in, nor do I fear giving it away again so fluidly. It's easy. You reap what you sow.
Plus it's good for the world.
* * *
This photo project came into one of my feeds yesterday – Photos of Strangers in Intimate Poses. I just found it interesting and artful, especially given the exchange I had with Michel just days before. Though contrived in it's way, I liked it as a study. (Of course, I love all types of photography – especially as art-projects.) Good for the world, I say. I wonder what you think of them?
Do you find you touch people in day to day lives, or do you tend to walk on by?