(Photo credit: Peter McCabe, The Gazette)
Most kids have been playing soccer for several weeks already, or are gearing up for the summer season to begin, perhaps once school lets out. Only, here in Quebec, there's been an issue regarding the allowance of players to wear turbans during the games, which has been ongoing since last year. The rule says if you wear a turban, you cannot play. It is for safety issues, said Brigitte Frot, the executive-director of the Quebec Soccer Federation (QSF), who added that anyone who didn't like the rule should "play in their backyards" instead. (She sounds like such a charming woman, I can't even…)
Indeed, the turban-ban restricts the play of the Sikhs who wear them. It's okay for turbans to be worn for members of the Canadian (and British) military, and for the Royal Canadian Mounted Police. But for children (and teens and men) playing soccer, it is tres dangerous. Let it be noted there's not been one turban-related injury reported to a hospital in Canada ever. So.
Really, Quebec? I call bullshit. And incidentally, so did the Canadian Soccer Association (CSA) – late yesterday, they suspended the QSF from competing until this ridiculous ban on religious headgear is lifted.
I look at my own wee daughter, and the mess of curls I pull into a tight ponytail on the top of her head before she plays her games. Had it some fabric on top, it would be the very same size and shape of a keski or patka worn by young Sikh children. And what, I wonder, of kerchiefs for hair?  Or hair bands? These are safe enough. It's religious head coverings that are the problem. (So, what of Jewish kippahs?)
Sikhs wear turbans, (along with uncut hair and beards) to show their devotion to God, as part of one's commitment to being an upstanding person – this is why they wear them. It is an extension of their physical beings, and it has nothing to do with soccer. Turbans do no impede the game, the playing of, or the enjoyment of the game… head scarves or hijabs were finally allowed for Muslim female players last September, though even that was after a year-long trial period issued by Fédération Internationale de Football Association (FIFA). And even then, it took four years for the the trial to come about.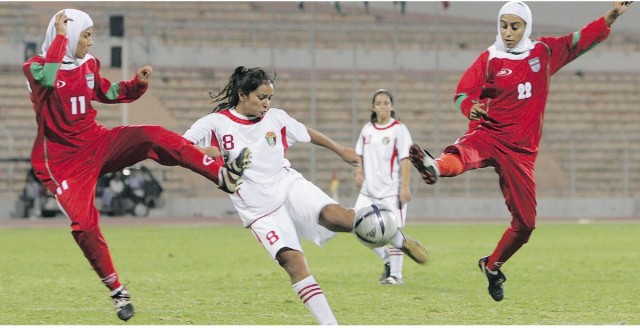 (Photo credit: Muhammad Al-Kisswany, The Canadian Press)
And FIFA does not have an official ban against turbans. Nor do any soccer bodies in any other province in Canada – just Quebec. And I'll say that as much as I love the city of Montreal and Quebec at large, there's a problem with… how shall I put this… well, xenophobia ain't exactly a new problem here. It's scandalous, it's tiresome, and it violates the very spirit of our Charter of Rights and Freedoms to ban children from playing soccer, just because they wear some silk on their heads. I understand that uniforms should be, um, uniform… but this feels is racist no matter how you try to spin it, and I dare say, had this been talk about a kippah, this discussion might not be taking place now. This is an issue of brownness.
I say bravo to the CSA for adding pressure to the Quebec soccer body.
Giddy-up, Quebec… it's time to act right. RIGHT NOW. Let's not have this shameful smudge be part of our Canadian history. It's embarrassing, to say the very least…