If I could spend a day walking a mile, or ten, in my mother's shoes what would it be like?
I look back at all my mother has accomplished in her life. She spent years caring for my sister and me—tag-teaming with my dad. She worked nights for a bank processing accounts—a time long ago when it was all done by humans and not machines. Not once did she ever complain about working the night shift and parenting us—when I think back she was always awake enough to see us off to school and ensure we were doing our homework in the evenings. We didn't think much about it at the time. She must have been exhausted, but not once did I ever hear her wish for someone to walk a mile in her shoes.
Now that she's older she's finally spending time caring for herself. I love when I visit my parent's home and see her counter full of face creams, lipsticks and other beauty products. That wasn't something she spent time on when I was young, but when I flip through old photos from her wedding, mom had looked like a model. She took care of herself with beautifully styled hair and killer kitten heels. Her Mad Men style must have turned heads when she arrived in Canada from Hong Kong. I would have loved to be in her shoes!
Like many women when they have kids, my mom selflessly put our family's needs before her own. Taking care of us became her priority and there was never ever a whisper of mom needing "me-time." Taking time to go to a spa or a nail salon was never something she put on her wish list—she's never been comfortable with strangers doting on her.
She does her own manis and pedis at home the best she can. When I ask her to come with me to get a little professional pampering she's still not comfortable in salons. So, I've loaded her up with the latest nail polish colours as well as some really great hand and foot creams. One that I've been loving is Amopé Pedi Perfect Extra Rich Skin Recovery Foot Cream, especially after winter!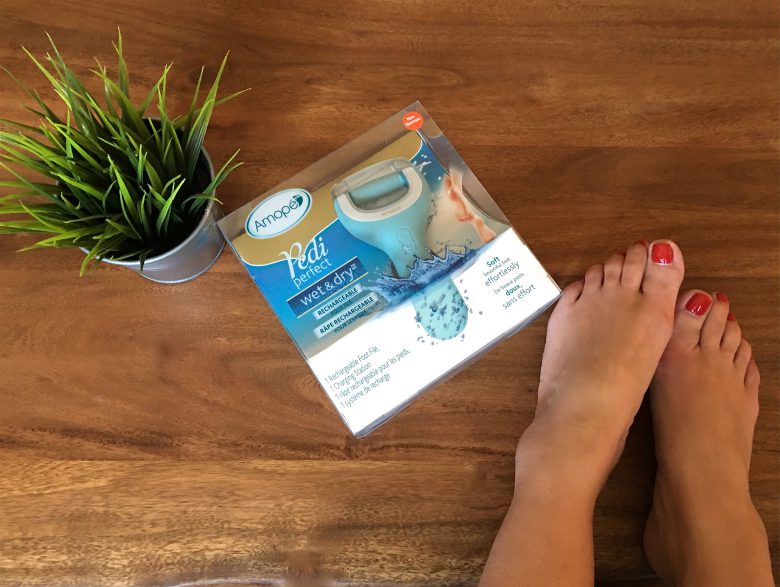 For Mother's Day I'm going to take it one step further and give her a new Amopé Pedi Perfect Electronic Foot File. Yes, really! I know she will appreciate it and love it. Plus it's also important to take care of any cracked heels and dry skin before we get fully into sandals season.
The newest Amopé Pedi Perfect Electronic Foot File will offer mom the ability to take care of her feet with a specifically designed roller head that can be used wet or dry to help buff away hard skin effortlessly without salon worries and on going costs.
She's been curious as she's asked me about mine, so I know she will love her own to safely use whenever she wants.
The complete Amopé line of nail and foot care products are available at major Canadian retailers including Shoppers Drug Mart, Rexall, Loblaws, Jean Coutu, Uniprix, Familiprix and Walmart Quebec.
This post was brought to you by Amopé, but the images and opinions are my own.