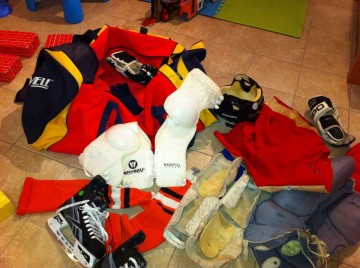 I'm not 100% certain but I'm pretty sure my kids look up to me. I mean they're 5 and 3 and next to Spiderman, I think I'm their biggest influence. But with that of course, comes a lot of pressure. They look to me for advice, love, snacks, and wisdom. I love my boys with all my heart and soul, and would do anything for them, well anything except for one thing. It pains me to admit this but here we go….my name is Ryan, I am Canadian, and I can't skate.
It's been a long 5 years that I've been able to keep this shame a secret from my boys, but now the truth must come out. How does that saying go? The truth will set you free; in my case it's more like the truth will send me head-first into the boards.
I'm hoping I'm not alone in my secret. I'm hoping that there are other Canadians whose parents came over here from the old country and never grew up on hockey as well. Please say I'm not alone here? So here's the deal…I've mentioned in the past that I grew up in a very British family so the only hockey they we're familiar with was field hockey. Field hockey doesn't exactly give you a lot of street cred at recess time.  By the time I turned 12 or 13, I became interested in (ice) hockey but I was too self-conscious to start learning. I felt like I was too far behind and didn't want to be skating on double blades using a chair to balance when I was just a year away from shaving. Looking back, I wish I had learned. I remember my Friday nights like it was yesterday, and I'll be honest…they were sad.
Back in the day, my friends use to go skating at the Meadowvale 4 rinks in Mississauga. The kids on the ice looked like they had a blast. The ice rink was where many firsts happened: first time you held a girl's hand or if you were lucky enough, it was home to your first kiss. Anyways, while they were all out skating, laughing, and kissing, I was in the stands watching, eating fries and gravy, and listening to "Paradise City" being cranked on rink's sound system. There is nothing more sad then a young Ryan listening to Axl Rose with no one to share his fries with. Ahhh, the teenage years at the rink. I eventually got over my experiences there, or should I say lack of experiences. By the way, if you need a good therapist I got one for ya!
Truth is, I've got to move on to bigger and better things right? I've got a family now and my boys are looking for me to be there hockey mentor. The problem is, on the ice I look more like Wayne Newton then Wayne Gretzky. I guess I'll have to address the situation when they ask me to take them for a skate. I'll just be upfront and honest, I'll just tell them that their Dad can't take them skating because all the ice in the world has melted due to global warming.