I would consider myself to be pretty good at packing for city travel. Whether it's for work of pleasure, considering I always leave packing my clothes to the night before I think I do an alright job. My wardrobe consists of classic basics in colours that I know work. I'll pack a few accessories and a couple of handbags to change up a look easily. Shoes, however, are another story.
Last October, I had a trip to San Francisco and packed 5 pairs of shoes but ended up wearing the one decent pair of ballerina flats most of the time! When you're stepping into another city there are several factors to consider when thinking about your shoe choices. How much you plan to walk and what your activities will be, of course. But if you want to blend in and look more like a local you need to think on your feet.
I had a great chat with international shoe designer Tanya Heath on her recent visit to her Toronto Flagship store located in Yorkville. I took the opportunity to find out if there is a difference in what women wear in different cities.
Her line of shoes are great for savvy women looking for style and versatility as well as comfort. The bonus, the heel can be changed at the click of a button. Literally. Here you buy the shoes and can have interchangeable heels for completely different looks and there are many to choose from! The collection actually has three ranges: Power, Liberty and Seduction. The Power collection is designed to make you look great and ideal for work and beyond. The Liberty collection is designed for more casual fun moments out on the town or weekend getaways and the Seduction collection is for those stand-out occasions.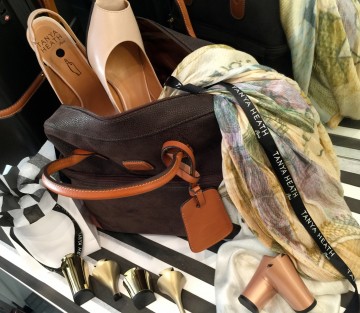 "As a business woman travelling in the summer months I would absolutely choose the Sophie peep toe," says Heath. "Then you could play with the line and put in the stiletto heel, Francois, that is less business and authority for a night out for dancing and then switch out to a Christophe for walking in the city. As a business traveller, it's always better to take a basic shoe and put the emphasis on the heel."
As a jet-setter now living in Paris, Heath has traveled the world and her namesake stores are found in major fashion capitals around the globe.
"There's definitely a difference in styles in the cities," says Heath. "In a city like New York, the women are very polished in their look. They are very well manicured. Their hair and nails are done in a certain way. There's also a culture of sport and a search for perfection." Definitely pick a black shoe like Helen, Sabine or Veronica.
Women in Paris are not aggressive in their styles. Again, black shoes or neutrals are pretty safe. "You'll often see a Parisian woman on the subway in a lower heel, like a Christophe or Francois or yes, a ballerina flat. Wealthy women go for the higher heels but she also likes the Denis styled heel."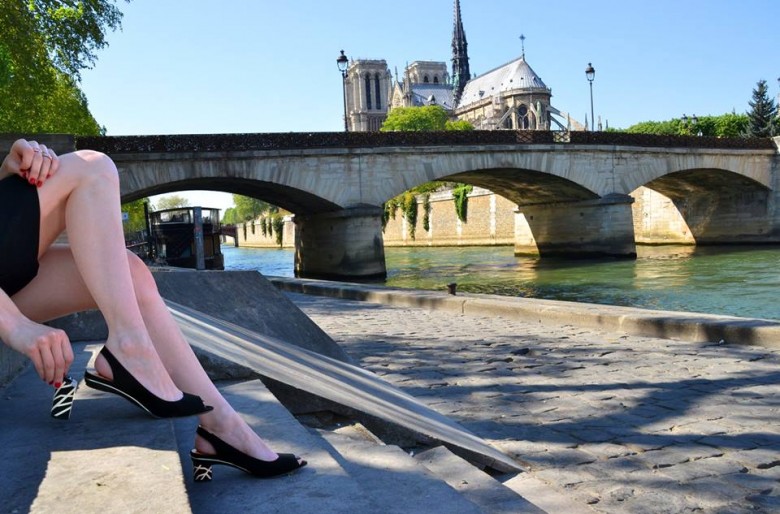 What about Tokyo and Hong Kong? I was surprised to learn from Heath that the colour trend for shoes there are neutrals. "What we've seen in Asian cities is that the women veer strongly towards the lighter colours. They are not the black shoe crowd at all. We had a bit of press in China and Hong Kong and our shop in Paris have reported that we are currently sold out of lighter colours to this market."
"Women in Barcelona are much more laissez faire. It's a more casual and more feminine city. They tend to wear a lot more colour; it's fascinating to see the difference," says Heath. Women here are more bold in their style with stronger colours. "There was a recent study in the lingerie business that found that the most popular colour sold in Spain is red and they really go for it! It's a very aggressive city when it comes to style and personality. It's much more warm and colourful and high heels are definitely popular. "
Women in Milan love their high heels and won't really look at the lower heels. "However Italian women seem to be more conservative. The goal of the Italian woman is to look like a woman. That means, in their culture to be more seductive and very well put together. You'll see them in the Francois style and then the Denis but they won't really go for Stephane. It's too short for their taste."
Toronto is like Paris and New York where the women are drawn to the Helen or Sabine styles first for a more polished look for work.
The buying patterns are very different from country to country as well. Germans, Spanish, Belgians and Swiss see our line as a system and will buy everything..all the heels. North Americans are polar opposites, they will buy a low heel go the extreme and buy a higher heel.  They are very efficient. Overall, Heath suggests that for city travel it's always safe to stick with a black shoe for any city and use the heel adaptation to change the look from day to night and based on what activities you do.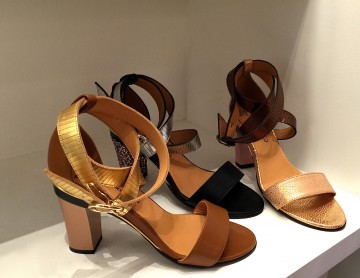 As I wandered through the shop I noticed their latest styles and I'm currently crushing on for the summer. The Dominy and the Astrid are two that have more international vibes that I can definitely use for summer nights out on the town in any city!
You can view the entire line of shoes and heels here: Tanya Heath Paris
Maybe I'll be able to pack just one pair of heels now!…okay, two.
How many pairs of shoes do you pack when you're travelling?