How's your holiday shopping going? I'm in frenzy mode now that I've realized that this is the last week of school. The final week before the kids are off and there's little time left to finish off the shopping. There are many great ideas out there, as you know. Sometimes even hard for me to be tempted to buy a little something for myself these days! While you're busy with your day, you may want to take a quick peek at Lands' End's Twitter and Facebook pages every Monday morning during the month of December.
Why? Because they have a sweet contest happening.  Starting at 8:00 am (CST) each Monday, @LandsEnd @LandsEndPR and hashtag #MonogramMonday ,will post up a video of a three-lettered monogram. The lucky-named individuals whose personal initials match the posted monogram in any order can enter at www.landsend.com/monogrammonday within 24 hours. All entries matching the monogram will be collected and one entrant will be chosen at random to win a $1000 Lands' End gift card each week!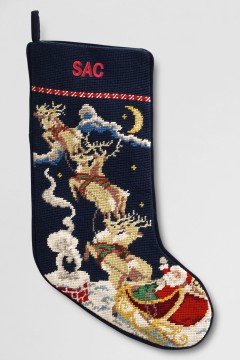 Now that's fun!!!
Speaking of fun..here are some fast facts about how popular monogramming is from the people at Lands' End
The most popular monograms are "Mom" and "Dad"
During the holiday season, November and Decemnber, the monogramming department will go through 3,600 spools of thread, equivalent of 10,800 miles of thread!
Lands' End's most popular thread colour during the holiday season is "parchment" due to the high volume of Christmas stockings monogrammed.
There are 30 different thread colours used in the monograms here.