Summer dressing is so fabulous because…dresses!!! I can walk into any store in a mall and pick a dress off of a rack that will fit me. I love short ones, long ones, flared ones and fitted ones. Dresses rarely require tailoring (I've figured out that I'm never going to rock a maxi) and are so easy to wear.
With Fall comes cooler temperatures. The good news is that I don't have to shave my legs nearly as often, but the bad news is that I can't grab as easily for a dress every day. Fall means pants. And pants are not easy. They need to fit in a bunch of different places, (butt, waist, hips, thighs) and they tend to be loooooong on those of us who don't have supermodel gams. Sigh. So much work.
LOFT to the rescue. They recently invited me in to try out their Pant Clinic, with a guarantee that if I gave them 15 minutes they'd give me the perfect pant. I was skeptical to say the least, but I'm always up for a challenge (especially one that involves shopping!)
It didn't even take them 15 minutes. I walked in and was greeted by a lovely sales associate who pointed out the newly redesigned line of pants in LOFT stores. There are adjustments to the four main areas where women express concern about fit; the thighs, rear, leg and tummy. The outcome is three simplified fits; Marisa, Julie, and Zoe, designed to fit 9 out of 10 women.
I quickly identified myself as a Marisa (try their 5-minute self-diagnostic quiz at LOFT.com), and found I had about 30 styles within Marisa to choose from (ankle, trouser, straight leg, etc). The fit works. I pulled a few pairs of Marisa pants from the different styles and was thrilled with the fit of every pair.
See for yourself.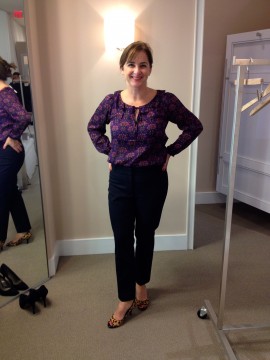 Ankle fit may not be as short on me as on some taller women, but they're trendy and show off a great pair of shoes.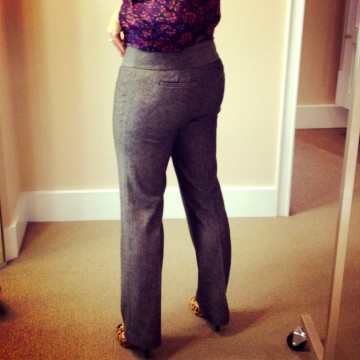 My butt has never looked better than in these tweed patterned trousers. I love them.
The wide legged took this outfit from ok to fantastic. Again, the length was great, the fit was perfect!
Just for fun, I agreed to try on a pair of Zoes.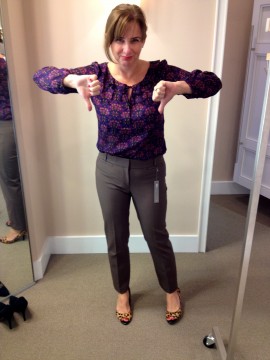 I am clearly not a Zoe. Waist was fine, thighs ok, pulling at hips…two thumbs down.
Five minutes with an associate, 10 minutes in a dressing room, 3 pairs of perfectly fitted pants. I'd say I the LOFT Pant Clinic was a complete success!
LOFT offered me a pair of pants for my participation in their clinic. I was so thrilled that I bought the other two pairs (and the tops…shhh) on my own dime.