I've got a birthday coming up this month. Birthdays are wonderful. There's celebrating with friends, Facebook greetings, cake and free lip balm from Sephora. The alternative to having birthdays is not having birthdays…and that really sucks. However, while birthdays are wonderful, aging is not. Metabolism slows down, so we gain weight. Our skin wrinkles and changes. Our energy levels wax and wane.
And this week's PR pitch let me in on angle I hadn't even considered…aging hair.
Hair ages by decade. Your locks are at their loveliest in your 20s. By your 30s, the hair has experienced a decrease in sebum (less oily…good), along with ongoing external damage, resulting in a loss of hair's natural luster (not good). By your 40s, hair becomes thinner and more fragile as the hair shaft shrinks and grey hair makes an appearance. In the 50s, hair follicles shrink and hair becomes thinner still and increasingly fine.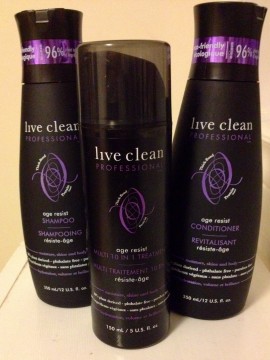 Live Clean has just launched its Age Resist Collection and it's pretty wonderful.  Age Resist is effective at addressing the specific problems and symptoms of aging hair; diminished density, changes in texture, dullness and lack of shine, increased dryness and breaking hair. Made up of avocado oil, rosehip extracts and anti-oxi fruit blend the line of shampoo, conditioner, multi-treatment and nutrition oil provides essential nutrients to hair and boosts overall vitality, appearance and health.
Live Clean's 100% plant-based silicone alternative is performing as well as synthetic silicones that we find in most hair care products, without the high carbon footprint of synthetics. The natural products also rinse out much better than the synthetic silicones.
Products range from $8.99 to $11.99 and are available across Canada at Shoppers Drug Mart, Loblaws Superstore and Walmart.
So now I'm back to thinking birthdays are wonderful. And aging…well I can live with it!