Before Christmas, I wrote about being the unicorn – about being a bit of luck for someone else, and how these kinds of kindnesses can keep circling on the breeze… if you keep your eyes open, you never know what might fall on you. I have no doubt this is a true phenom because it happens to me all the time…
Last week, while riding my scooter in the mall near my house, I nearly rolled right over a crumpled up five dollar bill. I'll admit that my first thought was, I will buy a McLunch with this, but then I remembered how the last time I found some cash on the ground, I gave it to my homeless guy on the corner – the one with a smile like Joe Biden's – and quickly decided to do the same this time around. I don't give him money very often, though I walk ride past him almost every day. He's always seems happy to see me, and is never without a kind word for my kids, or for me. So this day, I just handed him the fiver as I ventured home, and he beamed and thanked me, saying, How kind… but it was nothing. I mean, really – easy come, easy go.
A day or two later I was assessing the day-camp requirements, like socks and close-toe shoes, bathing suits and towels clearly marked with name-tags, blah, blah, blah… and sunscreen for everyone…
Sunscreen is one of those things on my list I kind of hate to buy, because we never seem to finish the bottle(s) of them, and the next year when we go to use them they're either cakey and dry, or weirdly separating, or smelling different than when they did when they were new… I look at the expirations dates and ponder. And at a cost of around $15 – $20 per bottle… some for him, some for her, some for the house, some for the cottage, maybe? I implore you to use your own math skillz, please. Feels spend-y for stuff I seem to be throwing a huge amount of away anyway. Boo!
And as Christine mentioned the other day, between camp registrations, and teacher's gifts, and school taxes, I feel like June in particular is just one fat month of cheque-writing. Suck!
I found myself this day perusing the wall of sunscreens available, and wondered about buying some smaller containers to decant some of this lotion into – so he might have some for his bag, and so might she… without  having a new bottle for each, and OY the headache. I bought one bottle, and vowed to buy another after a few weeks, since Oliver doesn't start day-camp right away. The cashier rang up a sale of over $60 with the sunscreen, and a couple of other assorted things. (Lord, but the pharmacy is such a pit of spending, I don't even know.)
So, just after leaving my neighbourhood shopping centre, I scooted past Joe (Biden) Homeless, and he flagged me down. "Wait… wait just a minute, I have something for you," he said, crouching to open the duffle bag at his feet.
I crested a wide circle on the sidewalk with my wheels (because I'm all boss like that on it) and stopped in front of him, throwing my earphones back on my neck. I smiled, "How are you, Michel?"
"Oh, I'm great, just great," he said, and added, "But I have something here for you…" He opened a white plastic bag and pulled out two identical, unused makeup-style bags by Clinique.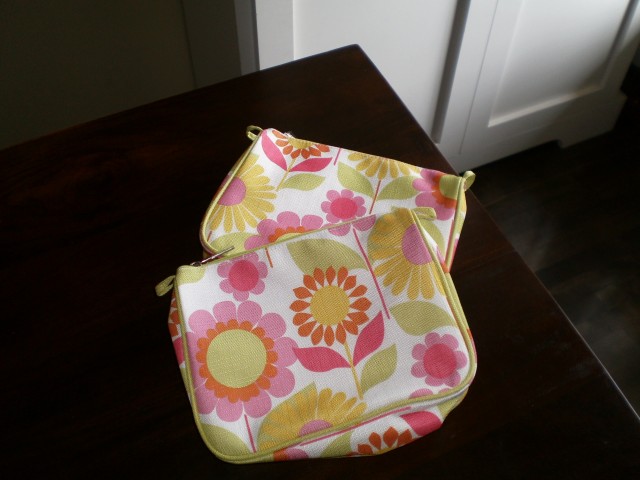 Um…
I looked at them, and then looked at him, and decided I would just accept. Of course, I did. They're not exactly the kind of thing I would use, really (and they're not the type of motif I would ever choose) plus they smelled exactly like a small mountain of cigarettes… but I thanked him anyway.
"I figure you could use them to play dress-up with your little girl, or something… you know." He tucked one under his arm and did a little dance from side to side, holding a pinkie up on one hand. You know, just how ladies do when they hold purses under their arms. His attempt at being playful endeared him to me.
"Wow! Thanks… so much… really, you didn't have to…"
"And there's something else… I got this from my church, actually." He dipped his hand into the plastic bag again, and withdrew a small, sealed box.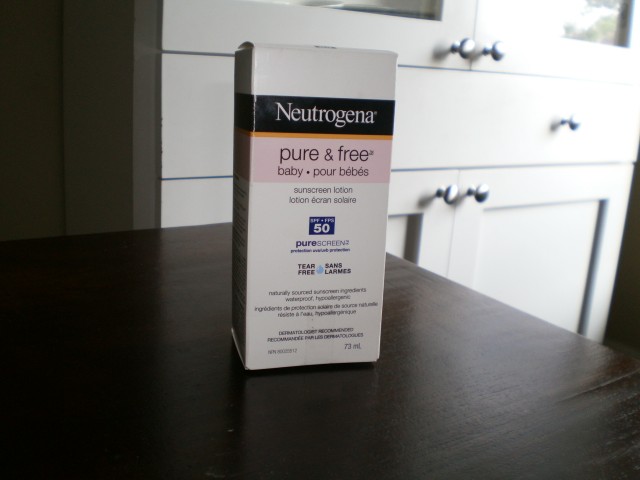 I just blinked at him in amazement. I mean, there's no way he could have possibly known. That's just… kismet, I guess.
I smiled and thanked him, gingerly taking the bag from him and tucking it into my messenger bag. He smiled back and said, "You're welcome! You're such a nice person, and you're very cool."
I didn't know what to say, so I just laughed, and he laughed too.
"Thanks so much, man. I actually needed some sunscreen for the kids…" It was true, even if I'd just bought some.
"Yeah, sunscreen's expensive."
"It IS expensive! Wow, thanks… um, well I'll see you soon, I guess!"
"Yeah, have a good day, Tracey!" I'd forgotten that he knew my name. I don't think I'd ever heard him say it before.
I waved and scooted off again, thinking about how random it should be that a necessity would come to me, out of the blue like that. I tell you, sometimes you get what you give. Or, you get what you need. Or something karmic like that.
And just like that, now my daughter has a tube of sunscreen with her name-tag on it for camp.
Universe, you are a tricky place, indeed…
Be kind to others. Be a unicorn. And keep you eyes open, people… you never know what'll be blowing in the wind.  🙂