On the heels of the whole "Toy Of The Year" fiasco, we now have this: Lego is handing out beauty tips to girls aged 5-12. Yup.
If you remember, back in 2011 Lego introduced their Lego Friends line. Aimed at girls, the building sets are pink and purple, with curvy minifigures, animals and even ice cream parlour play sets. This alone caused a bit of an uproar—why couldn't girls play with the same Lego as boys? (I know I sure did as a kid.) But the line was a hit as it catered to girls' play patterns instead of those of boys.
Fine. Okay. Let's say we all accept Lego Friends simply as a way to get girls using Lego and building their imaginations. Done.
But how do we then explain the Heartlake Hair Salon and their pandering "beauty tips"? How do we accept that face that Lego felt the need to "teach" our daughters about what hairstyle works best with their face shape? Keep in mind we are talking about 5-12-year-olds.
In the March-April issue of Lego Club Magazine, there is a fun, bright full page spread called "Emma's Beauty Tips". The basic idea is for girls to determine the shape of their face—heart, long, square, oval, round—and to then find which haircut would be the most flattering on them.
Those with square faces are told to go short and curly "to soften the edges of your face" and girls with long faces are told to stick with curls or waves to "help your face appear slightly shorter". The judgemental, we-can-make-you-prettier vibe is super off putting and the heavy focus on appearance and material things makes me cringe. "Experiment with bows, barrettes and headbands!" the article suggests. "It's like jewelry for you hair."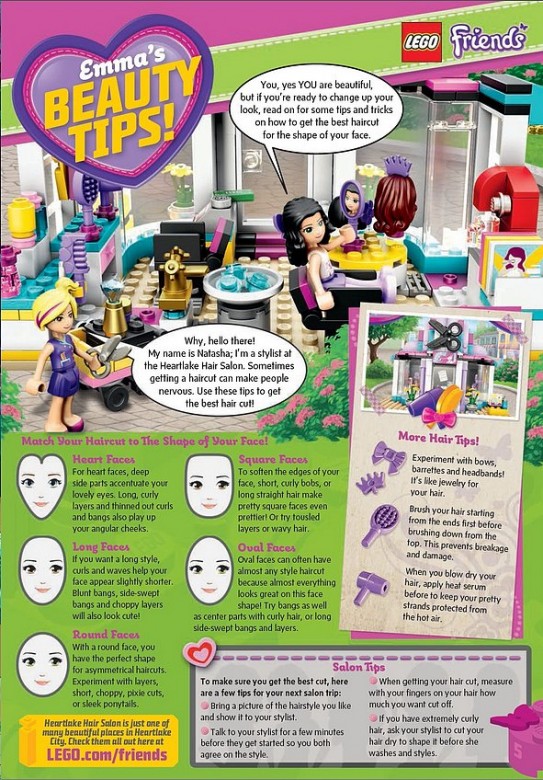 And of course, in the boy version of the magazine you better believe there isn't a single article on which haircuts will flatter a boy's head shape or any kind of beauty tip whatsoever.
It begs the question, is this really what Lego thinks it means to appeal to girls? Is this the best they could come up with? The idea that Lego thought this kind of crap even needed to be included in ANYTHING is infuriating.
In what universe is it necessary to tell our 5-year-old girls that they better start working on their appearance, and they better start now?
Oh, right, this universe, the universe that feels the need to categorize everything from toys to jobs to diaper duty in terms of gender.