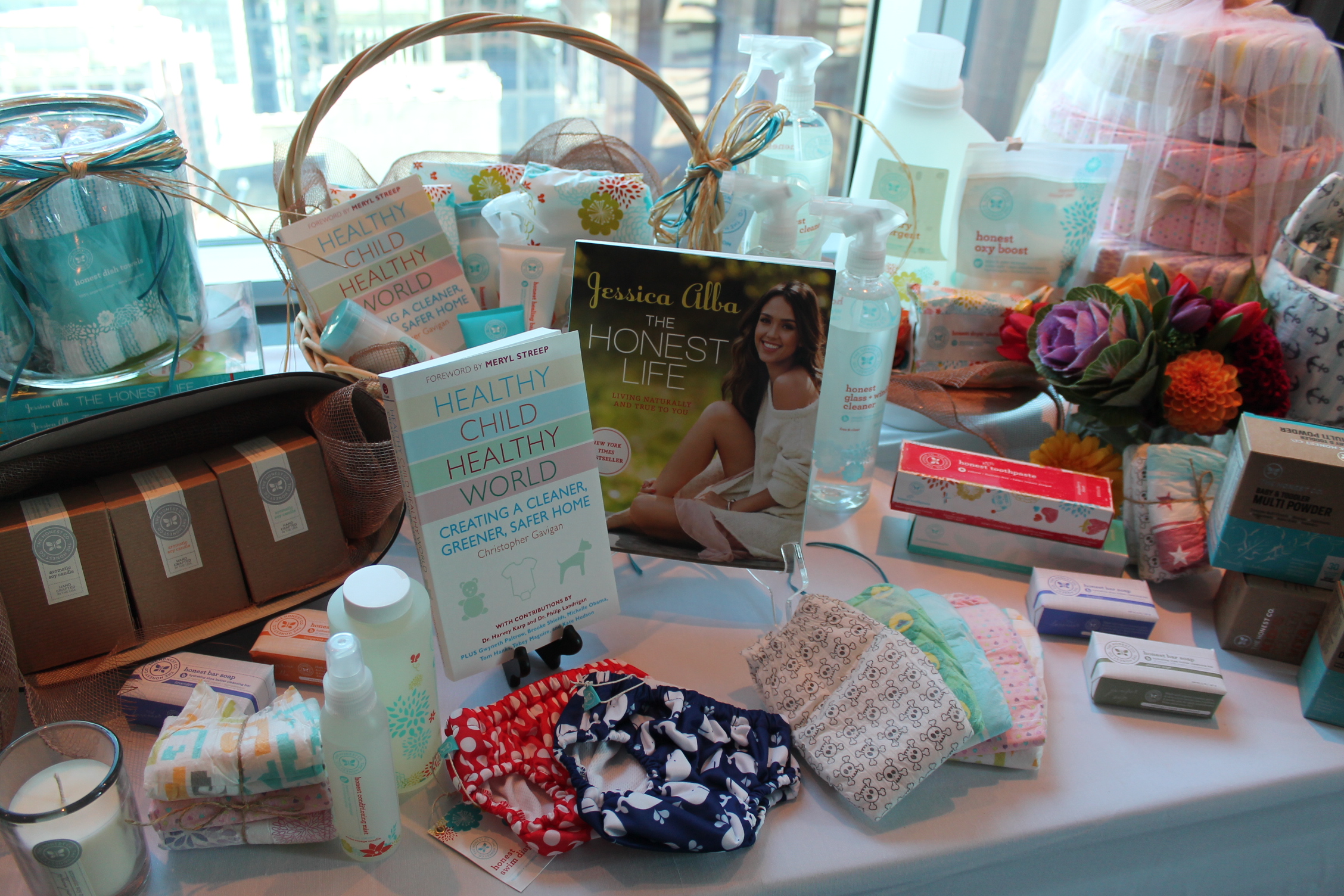 On the hunt for non-toxic, BPA-free family products that are also stylish and cool? Jessica Alba may just have what you're looking for. The star of Little Fockers, Fantastic Four and the upcoming Machete Kills was in Toronto recently to promote the launch of The Honest Company in Canada.
Alba is among the growing list of celebrities (such as Heidi Klum, Tori Spelling and Gwen Stefani) who have parlayed motherhood and fame into business ventures for kids. This mother of two girls (Honor 5, and Haven, 2) created The Honest Company with business partner Christopher Gavigan – author of Healthy Child Healthy World – in January of last year. Since its launch, the company's line has grown to include nearly 50 eco-friendly, toxin-free and affordable cleaning and baby products. They are available online – and now ship to Canada!
If you're anything like me, these types of products are a welcome addition. Because increasingly, I have concerns about about all the toxins my family and I inhale and eat.
For Jessica Alba, her moment of truth happened while she was pregnant. Alba tried to use a popular baby detergent that her mother had recommended. "I was washing these clothes and blankets and I had an allergic reaction to it. And I said 'Mom, there's no way this can be safe,' " she told me during a meet and greet at The Trump Tower.
Alba decided dig to deeper and found that in the 32 years since her mother used it on her, that particular detergent had changed. "It was a completely different product," she said. " There have been over 80,000 more new chemicals introduced and brought into the marketplace than there were when I was a kid. They reformulated it into a completely different product that we have today."
So what makes an "honest" product? According to Alba: "It has to be high-performance, best in class, it needs to be versatile. But you also want it beautiful and affordable. So everything's in a really competitive price-point. Obviously it has to be non-toxic and we give a portion of our proceeds to families in need."
During Alba's visit here, I had a chance to check out many of the products. The baby products are truly adorable. For example, the diapers are very cool with fantastic prints such as skulls and peacock feathers. Their baby teether is super-charming. The range of products is also quite good – everything from lip balms and toothpaste to shampoo and cleaning products. The Honest Company's biggest sellers are wipes and "bundles". You pay a monthly fee and get diapers and wipes delivered to your home – when you need it. Alba and Gavigan said they also plan to introduce a crib, stroller and mattress. These products will be free of toxic dyes or flame retardants and the company has a list of over 1700 chemicals they would never use.
While the products may be good for you and for the environment, Alba and Gavigan both made it clear that a deep sense of style and having the products look great was a key consideration in everything they do.
"If there is a man and a woman family dynamic, they don't always have the same style ideas," says Alba. "My husband would always complain about my diaper bag or any accessory that was too floral or girly. So our products are modern and gender-neutral."
The company's philosophy is certainly appealing – to use pure and raw materials while trying to remain affordable.
"The brand was really built on 'Everyone should have access to this'. People need to be educated about healthier opportunities," says Gavigan, "but really, the toxic realities that families are going through because it's on store shelves – it's not as safe as you think. It's not as regulated as you think. Someone needs to do it better and that was the initial challenge that we tried to solve."