There are days that you couldn't pay me to get to a fitness class. I'll drag around like I have a ton of bricks chained to my ankles and make every excuse in the book to just not get there. I'm not inspired by winter's dreary cold days (or sunny ones). But now that temperatures are inching above the freezing point and the sun seems to be shining a bit more, I have more desire to get out the door.
I was just at "Madonna's gym" the other day—I should really try and go more often as I feel a great energy that I don't get anywhere else. Hard Candy Fitness is a perfect blend welcoming staff, tall ceilings, bright lights, airy atmosphere and energy pumping music that just makes you want to dance your way through a class. Of course the Fuel+ energy bar upon entry makes the best chai chia shakes in the city. But this day, I was there to check out what's fresh with New Balance Canada. So many great lifestyle, sports and fitness shoes and attire that I can't wait to show you!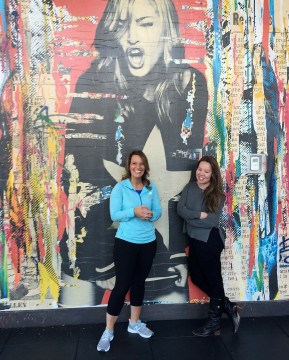 I had a chance to sit down with fitness expert, TV host and New Balance Canada Brand Ambassador, Jennifer Ettinger. You may have seen her on Access Hollywood, ET or CityTV's Breakfast Television! Her company Fit Your Style merges her passion for style, health and fitness. And she's a mom too! So, I wanted to find out if she had any tips to get us out again. During our conversation I discovered her tips were more reasonable than I had expected!
How do you get motivated to get exercise during the day?
It's challenging as a mom because we wear so many different hats. We get drawn into things we do and we forget about ourselves. So, one thing I do is make sure my shoes and my outfit are ready where I can see them staring at me. So, when I wake up it's my reminder to find the time for me. I've been doing this for years. Even as a trainer, I'm training other people but I need to make sure I train myself.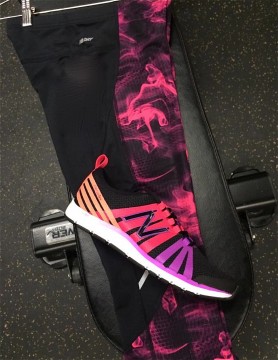 And what about shoes? When should we be getting new shoes (I really want to know)?
It's all dependent on what sport you're active in. Obviously if you're a runner or walker you'll have more impact on your shoes depending on how often you run so keep an eye on the wearing out of parts of your shoes for stability and endurance.  If the shoe is ill fitted or worn out it's going to shift all the way up your body so get fitted properly right from the start. You want to make sure you have the right shoes for the right type of exercise as well. Generally people switch new shoes every six months.
TIP: Check out the new FreshFoam technology exclusive to New Balance. It delivers soft, plush comfort for a more natural ride for runners!
Do you and your partner like to work out together at all?
It's kind of funny, it's like the cobbler and the shoes, he's a marathon runner and I'm a cardio girl. I love to spring train and do cardio that's not running. I like to do the cross-training but we do come together and I will occasionally coach for him. We're also motivated as a family! Our daughter is often the cheerleader but we all have our own individual style of fitness but we come together and motivated in a healthy lifestyle which I think is really important!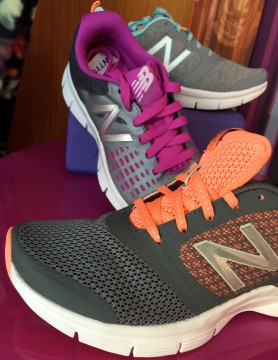 The New Balance spring/summer line is rolling into stores now! I'm seriously crushing over the CUSH line for great support, comfort and style. Runners, you'll want to take note, NB Zante just hit the stores last week! The latest technology offers smooth heel to toe transition for a better run at any pace…and they look fierce! RUN.