Earlier this year Dyson unveiled the Supersonic hair dryer. With stars in our eyes, we collectively swooned  over what could be the ultimate beauty tool. Then we gasped at the price tag when it was finally made available here in Canada. For $499.99 we collectively stepped back, letting that feeling sink in.
Dyson, as we all know, has cornered the market in the most sought after vacuum cleaners and air purifiers around. I know. I've got two myself and yes, they are absolutely dreamy at sucking up allergens and my endless long hairs from every nook and cranny of the house. Like many reviewers, I had to lift my jaw off the ground when I had first heard about the Supersonic hair dryer. Knowing the company's extensive research and technology, it better be worth it.
Initially, we all want to know if it will save us time, but for that hefty price tag, it better be doing more than just saving time. When I was given the opportunity to review the Dyson Supersonic, I jumped at the chance.
Truth be told, I have a love-hate relationship with my hair. I love my long hair and how healthy it is. I not only credit that to having a really good hair stylist who knows how to cut and colour properly, and a couple of go-to styling products (essential oils in my shampoo and oils for the ends) but I love how I can quickly style it in all different ways. However, I HATE washing and drying. Hate. Because it's time out of my day when I'd rather be doing something else.
Would the Dyson Supersonic be a life changer? I seriously needed to know. The last time I had paid for a hairdryer was a year ago. Before that, I had a few other models that kept breaking down or overheating. I had just convinced myself that hair dryers aren't built to last.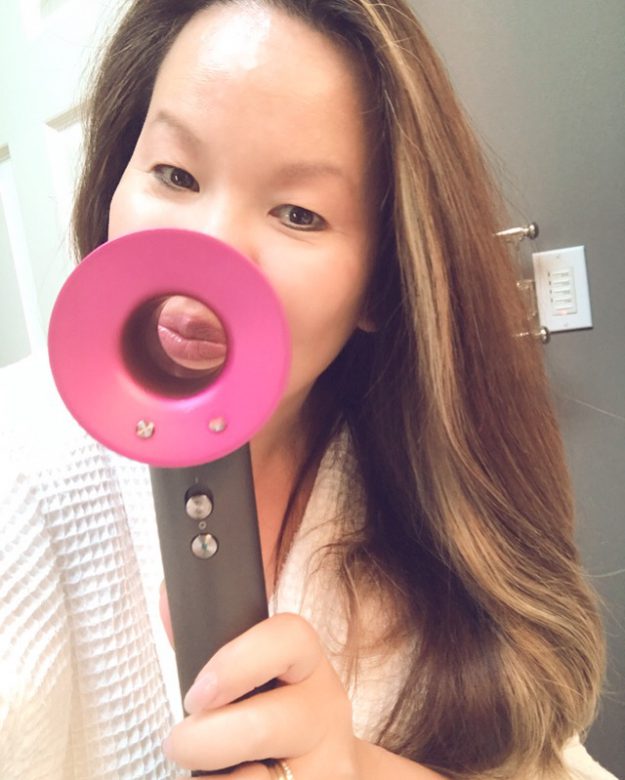 So, what is the new Dyson Supersonic all about? Here's what you need to know…
HOW IT WORKS
The air filter runs from the bottom of the hair dryer, bringing air up through the handle. The motor that runs the hairdryer is actually in the handle (other hairdryers have the motor running through the head making others bulkier) and the digital motor itself is a new technology. They've designed it to "move" air at a higher speed.
WILL IT SHORTEN DRYING TIME?
Yes. Remember I have long hair (like past half way down my back long hair) and with they Dyson it took me about 15 minutes to dry my hair completely (and actually 8 minutes for good enough, momma-needs-to-get-out-of-the-door kinda dry). This is compared to my previous hairdryer which took 23 minutes.
So, if timing is your number one concern, I would say that that isn't necessarily the only reason to commit to this Dyson product. I needed to know what else it can do for this price tag — because it better do more than save me minutes.
WHAT ELSE DOES IT DO?
LESS DAMAGE: We're all use to believing that high heat would dry our hair faster. But I've discovered that isn't necessarily the truth…nor is it good for your hair. A hair stylist had recently explained to me that extreme heat from normal hairdryers actually cause damage to each strand of hair resulting in faster and more split ends and dullness.
CONTROL & SHINE: I've noticed that the Dyson Supersonic doesn't get too hot yet dries my hair quickly. Also, I tested it without using any products (see above photo) and my hair stayed in control, i.e. less fly aways and appears to shine more. Why? If your hair has less damage, then natural light will reflect properly, making it shine. So, maybe I can minimize products too? Hmmmm.
SETTINGS: It has two control settings "hot" and "cold" with three degrees to use. Good to use the cold to finish off any drying so the hair pores can close back from the heat.
SHOULD I GET IT?
I've factored in the money I spend on my hair overall between colour, cuts and the occasional blow outs, and if a hairdryer will maintain the health of my tresses I'm completely sold. Fast drying time is good but I seriously think it's the technology of keeping hair healthier that is worth the investment.
ANYTHING ELSE I NEED TO KNOW?
Oh, yes…it's quieter than my usual hairdryer and obviously, its sleeker design takes up less space in my drawer. Although my hubby thinks it's display-worthy. The Supersonic comes with three additional styling heads (smoothing nozzle, style concentrator and diffuser). It's also only available through The Hudson's Bay and at the Dyson Canada site at this time. I stopped by the nearest store and they told me that people are already buying them up for their wives or girlfriends for the holidays.
I'm thinking you may want to drop this hint…