Statement tees are everywhere and a fun way to update your wardrobe! Throw one on with your favourite pair of jeans, a cozy blazer or oversized cardi and yes, heels and you're good to go! But go that extra step and consider a tee that is more meaningful.  This limited edition tee is more than just SUPER CUTE…it's also for a worthy cause! And that's a great statement!
Tanya Kim, etalk's gorgeous anchor has recently collaborated with one of her favourite charities – the Ontario SPCA (Ontario Society for the Prevention of Cruelty to Animals). You may recognize her on television as the friendly host on many red carpets who has interviewed TONS  of a-list celebrities including Jake Gyllenhaal, Rod Stewart, Jamie Foxx and Kanye West (yes, she's got the best job ever).
Now Tanya, and her beloved bullmastiff, Miss Louise are showing their love and support to the Ontario SPCA. They've partnered up to create a custom t-shirt with all proceeds benefiting the care and well being of animals in Ontario.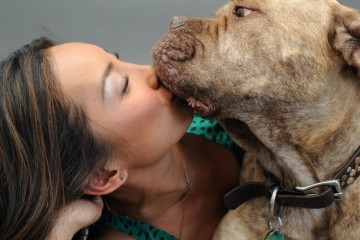 "Miss Louise and I are always happy to help and support the Ontario SPCA in any way possible," says Tanya Kim. "Something as simple as purchasing a t-shirt can give animals in need the second chance to live a healthier life that's full of love."
The Ontario SPCA is one of the largest, most responsive animal welfare organizations in the country, providing care and shelter for thousands of animals each year.
Available for men and women, the cool grey t-shirt features the outline of  Miss Louise. T-shirts can be purchased for only $20 (plus shipping and handling) here at www.support.ontariospca.ca/tanyakim
How cute, right? I got mine!
Get yours before they're all gone!