The weather is finally getting warmer and I think it's safe to say, summer has finally arrived in Canada. And thank goodness for that!
It's time for us to dust off our flip-flops, open up our cottages and get ready for the most important part of summer… barbecue season. If it weren't for the frigid temperatures and six feet of snow on the deck, I would barbecue all winter long. There is nothing quite like a burger or hotdog from the grill, or my personal favourite, corn on the cob. It's so easy too—just leave it in the husk and put it right on the grill. No muss, no fuss!
I pulled out my trusty old apron this long weekend and quickly realized that I had to do some shopping to get ready. And not just a little shopping, but some serious shopping, some "best BBQ ever" level shopping.
With my Amex AIR MILES Credit Card alongside my AIR MILES Collector Card, I knew if I planned it right, that I'd be able to get everything I needed and earn some extra AIR MILES Cash at the same time.
First stop was the LCBO to pick up a few adult beverages—I grabbed beer, wine and a few fun summertime coolers perfect for the sunny weather we were having. Since the LCBO is one of over 120 AIR MILES in-store Sponsors, not only did I use my Amex AIR MILES Credit Card to earn reward miles, I got even more miles by using my Collector Card, too.
Next, I hit up my local Metro store to grab all my food (and a few not-so-adult beverages). I got hot dogs, hamburgers, soda and buns, pickles, ketchup, mustard and relish, everything I needed to make an amazing salad and, of course, a whole whack of AIR MILES Reward Miles by using both Cards.
Last, but certainly not least I hit up Rexall for three very important BBQ staples that sometimes get forgotten. Sunscreen (a must-have), bug spray (those mosquitos are out in full force) and Tums (just in case).
With all my shopping done, I checked my AIR MILES Cash balance and headed for Rona … I've got my eye on a new barbecue to take my summer weekends to the next level and I can use my AIR MILES Cash towards the purchase.
The great thing about the American Express AIR MILES Credit Cards is that there are three different Cards, each one tailored to suit different needs. The Cards range from $0 to $299 a year and let you earn reward miles differently. I love the American Express AIR MILES Platinum Card—it lets me earn reward miles faster and waves the $65 annual fee for the first year.
Want to learn more about the American Express AIR MILES Credit Cards? Find out everything you need to know here.
You can collect reward miles twice as fast when you use your Amex AIR MILES Credit Card with your Collector Card. That's when you're really seeing the big picture.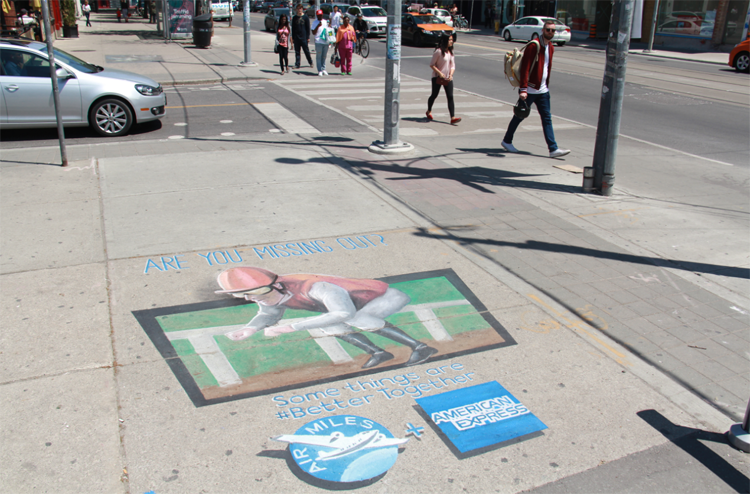 Like a jockey without his horse, your Amex AIR MILES Credit Card and your AIR MILES Collector Card really are better together. Want to see firsthand how some things are just better together? Check out Amex and AIR MILES latest chalk art to see how you're missing the big picture when you don't pair your AIR MILES Collector Card with an Amex MIR MILES Credit Card.
This post was sponsored by Amex Bank of Canada. The views and opinions expressed in this blog, however, are purely my own.