There are many great ways to support Breast Cancer Awareness month. I've already highlighted a few in the realm of fashion and beauty. But this one also caters to the fitness buffs that is worth some attention. New Age Performance mouthpieces are designed for one of the fastest growing sectors of technology and fitness.
What is it? The mouthpiece is a stabilizing piece that uses technology and design to provide support for the jaw supporting movements and preventing injuries to athletes on field, court or rink for longer periods of time. I know some women hockey players and squash players!  And if you're a hard-core workout maven you know that pumping iron can get you gritting your teeth… that's not good! This is for you! The device keeps you in check.
I had chance to ask Dr. Anil Makkar, of  Victoria Court Dental and consultant to New Age Performance about this product. Dentistry is his passion that led him in 2003 to master the understanding and mechanics of occlusion (the bite) and treatment of Temporomandibular Joint Disorders – that is, the problems with the jaw, jaw joints and surrounding facial muscles. He discovered that wearing mouthpieces can help enhance sports performance.
How is it different from other mouthpieces?
"It takes in account your bite. All other products are just for protection. We are fooling the body in thinking they have the perfect bite. Once that occurs, you get correct body alignment, which allows you to increase your range in motion, balance, and strength. This also allows your rib cage to open up, expanding your lungs and allowing you to breathe better."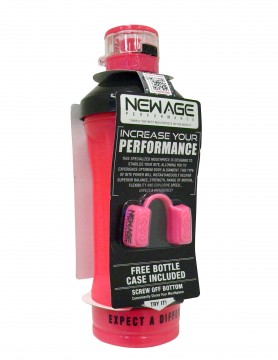 So why do we need something like this?
"As your mouth fully develops your bite changes, and this can cause a decrease in your airway. Also, as you get older, the eruption of the adult teeth can cause crowding, which can cause forward head posturing, this decreased the body's ability to perform at its best. Our mouthware decreases the forward head posture by correcting the bite."
Can it be worn safely over braces/retainers as some adults have permanent gear in place?
"During orthodontics the bite is constantly changing, as teeth are moving. The mouthware cannot correct a bite in a changing state. So, therefore,our product cannot be used for people wearing braces. Also, adults wearing braces have a decrease in sport performance activity as their bite is not positioned properly during this treatment. "
New Age Performance pink 5ds and bottle retailers for $49.97. During the month of October, 15% of proceeds from sales will go to the Canadian Cancer Society in the aid of breast cancer research. If you're interested, there's a promo code to save 15% as well. Use: GETNEWAGE