Ah, March Break. A time to escape the frigid Canadian winter and relax with your family on a sunny beach. Can't you see it? The kids playing happily in the waterpark while you sit poolside sipping on some fruity concoction. Sounds perfect.
But rewind a week to getting ready for that vacation and the idyllic scene is quickly replaced with way too many swimsuits, over-the-limit sunscreens and suitcases that can't even fairly be called a little disorganized.
Getting your family packed up for a holiday is a daunting task—and the unpacking isn't much better. And honestly, most of the work often falls to moms to get the kids organized and ready to go. You almost need a separate holiday just to recover from packing for March Break!
But we're here to help with a few tips and tricks to make your packing experience a bit easier.
Pack in groups
If you're a family of five with three young kids, odds are you don't want to lug a suitcase for each member of the family. But using one suitcase for several family members can lead to utter chaos once you arrive at your destination. Make your life a bit easier by packing each child's stuff into individual packing cubes (several can fit into one suitcase). Voila! Everybody's stuff is kept separate and organized! Austin House packing cubes are lightweight and easy to pack and they come in a variety of colours to help distinguish each cube. They're also great to organize your own suitcase—think blue for dresses, purple for swimsuits and pink for t-shirts! Or if it's a multipurpose holiday, keep your professional wardrobe separate from your beach gear.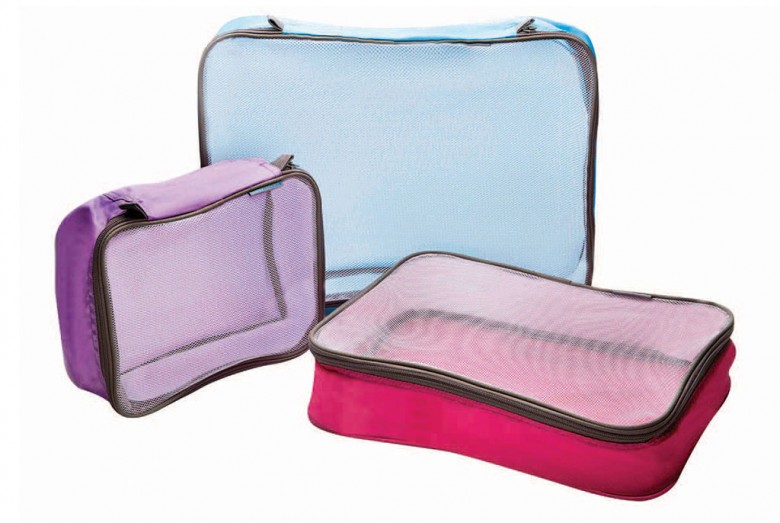 Portion control
Sounds a bit silly to be talking about portion control when it comes to packing, but if you can, try to bring only the essentials. This is especially important with your carry-on bag so you can breeze through security (with your toiletries intact!). The Austin House cabin-approved bottle set is perfect to keep all your toiletries organized and under the legal limit!
Pick the perfect bag
Nothing is more important than what you pack your belongings in. If your suitcase has a wonky wheel or weighs a ton, you can bet your holiday is going to start off on the wrong foot. If you've finally decided to upgrade the clunky luggage you received as a wedding gift and shop for a more family-friendly set, look for something that is lightweight and always opt for four-wheeled suitcases – especially if you have young kids in tow. Our top choice is the Atlantic Unite 2 line—not only is it light and equipped with Spin 360° wheel technology, but it also has the amazing Link2Go system that allows you to connect two or more pieces of luggage together. That means that your partner or spouse can handle all the luggage while you wrangle the kids through the airport.
The carry-on sized suitcase features a built-in USB port to keep you connected and your kids devices all charged up for the flight! And be sure to protect your luggage from any rough handling at the airport with an Austin House luggage cover.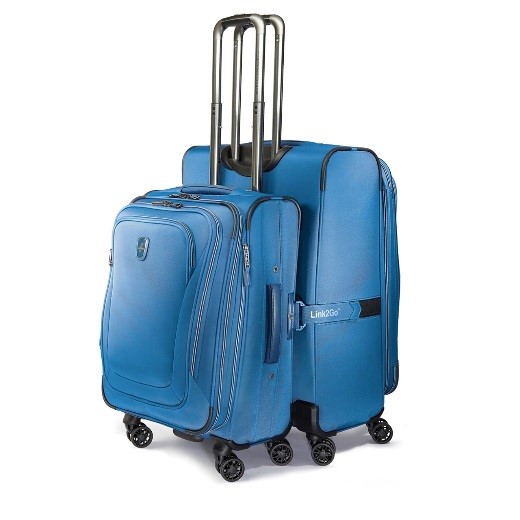 Add some fun
We know that the packing and actual travelling part of holidays can be a bit of a drag. Why not get the kids excited about the not-so-fun aspects by getting them involved in the process? Let each kid add an extra something special to their carry-on luggage – whether it be a badge or a button, or even invest in a fun luggage tag that they can personalize. The Austin House luggage tags are rubberized plastic and come in so many different, fun shapes, every kid is bound to find one that they love.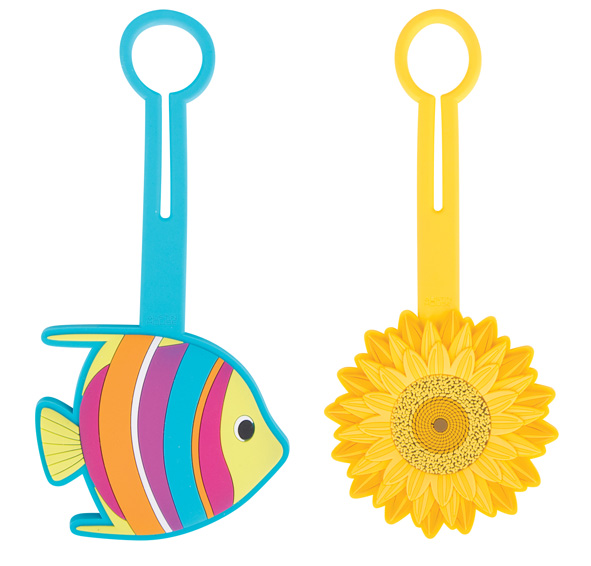 Now that you're all packed and ready to go can't you just hear that beach chair calling your name? Bon voyage!
This post was sponsored by Holiday.ca but the opinions expressed are my own.