We often joke around about just how bad the street congestion is in the city especially during the summer months. But it seems to not just to be about traffic.
The congestion on our skin from environmental changes wreaks serious havoc in the summer months. I don't know about you but my skin goes crazy once the humidity hits. And add the pollution to that? My skin gets a little puffier and splotchier. My pores are not happy and I tend to break out a bit more if I don't keep things under control. So, what do you do?
Over the past few years I've learned that daily maintenance is important. I keep a few things in my purse on the go (beauty hack: next time your at that coffee shop that rhymes with hockey pucks, grab a few extra serviettes. They are great for a dabbing off excess oil off your face on the go) including hairbands to keep my hair off my face.
I had the opportunity to meet with the experts at SkinCeuticals earlier this Spring and had my face analyzed for a more focused skin care regime. What I discovered didn't surprised me, that I had years upon years of accumulated sun damage to my skin. But what did surprise me was the analysis and how everything was explained to me. Understanding my skin and the factors of damage was important moving forward and knowing how to "prevent" further damage is critical. I was told it's also important to "protect" my skin with sunscreen and to "correct" damage that has already been done.
I was given a skin prescription that, I admit, was intimidating at first but again, I definitely have a lot of work to do personally to get back to (and maintain) healthy skin. And here's the difference. It's not about healthy "looking" skin. I'm talking about real healthy skin. The skincare professionals have extensive training in skin health.
I've been working on my skin for the past few months with the products prescribed to me including a serum that I am already a fan prior to meeting with them!  SkinCeuticals C E FERULIC is a daytime antioxidant that helps protect your skin as well as reducing the appearance of lines and wrinkles. I call it a miracle serum and once it's absorbed into the skin it remains effective for 72 hours. They also suggested I use the PHYTO CORRECTIVE GEL to help calm my sensitive skin and redness. My 15-year-old is also using this as part of his daily skincare regime to help keep acne under control.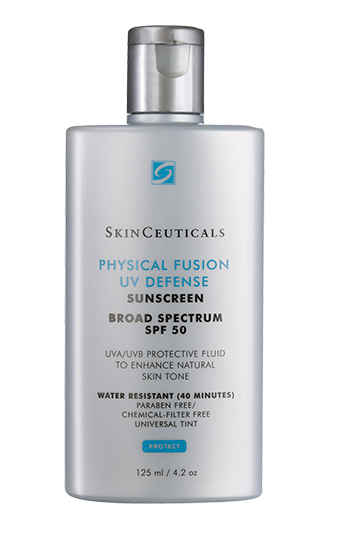 I have several other products in my daily routine but since it's summer I should also point out that I've been trying out their PHYSICAL FUSION UV DEFENSE SPF 50 and love it! This lightweight sunscreen provides broad spectrum protection and it's sheer formula is water-resistant (40 minutes). It appears slightly tinted in colour and adapts to all skin tones. It is giving my skin a healthier and more radiant look. Definitely worth looking into if you're in the market for a product that offers light and even coverage with sun protection.
Never heard of SkinCeuticals? The "cosmeceutical" company started before it officially founded in 1994 thanks to the research by Dr. Sheldon Pinnell. SkinCeuticals is considered a cosmeceutical company as it's products fit in between cosmetics and pharmaceuticals. Ingredients are scientifically and clinically proven and the approach is much more customized that what you would find at your average skincare counter The products are biologically active formulas to treat specific skin conditions.
Where can you find out more about their products? The company works with skincare professionals who are authorized including dermatologists, medical spas, plastic surgeons and other premium skincare providers. You can also go to the SkinCeuticals website to find a Skincare Professional near you.