Written by Lauren Sena
Apparently the idea of a typical orange jack-o-lantern is becoming outdated. There's a whole new world of decorative pumpkins out there now, filled with paint, glitter and other fun embellishments. Here are 13 charming carvings and designs from around the web that will inspire you to make your pumpkin stand out this Halloween.
Fanged Pumpkins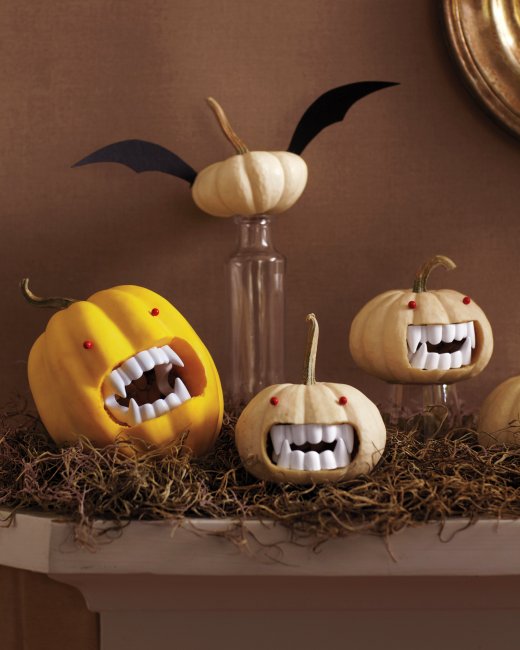 I'm not sure if these silly vampire faces from Martha Stewart are trying to be scary by baring their teeth, or are laughing in evil delight. Either way, they are adorable and, better yet, simple to make.
Confetti Dot Pumpkin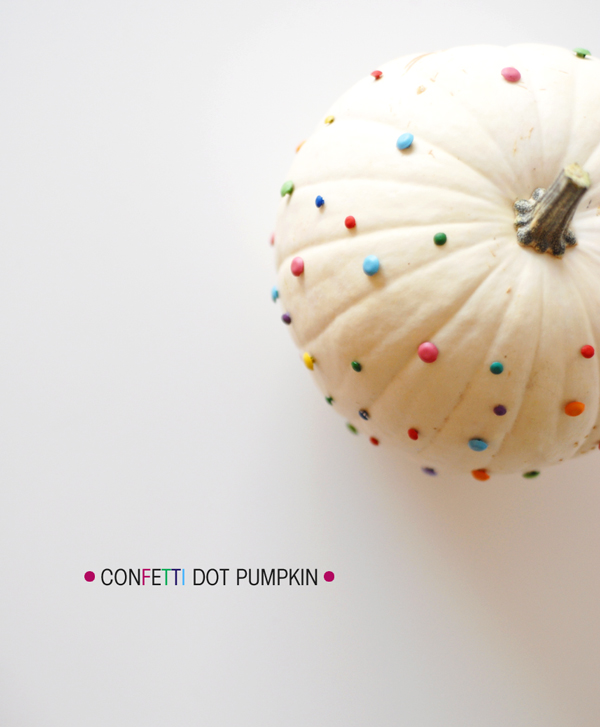 If you can get your hands on a white pumpkin or have the time to paint one yourself, here's a super easy way to add some contrast to it, as found on A Subtle Revelry. Simply push paper brads (yup, those little two-pronged paper fasteners) into the pumpkin to create a colorful decoration for your front porch.
Owl Pumpkin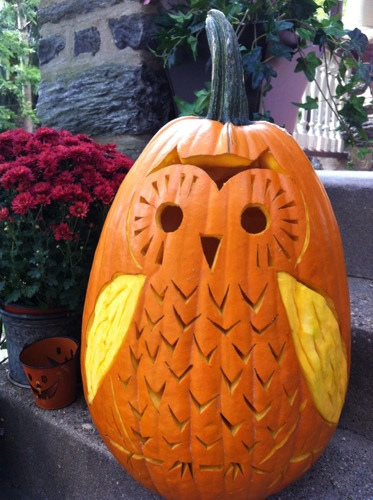 This owl, spotted on MAKE, is a creative alternative to a smiling pumpkin face. A taller pumpkin will work best for carving out this sweet birdie.
Hand Sketched Sharpie Pumpkins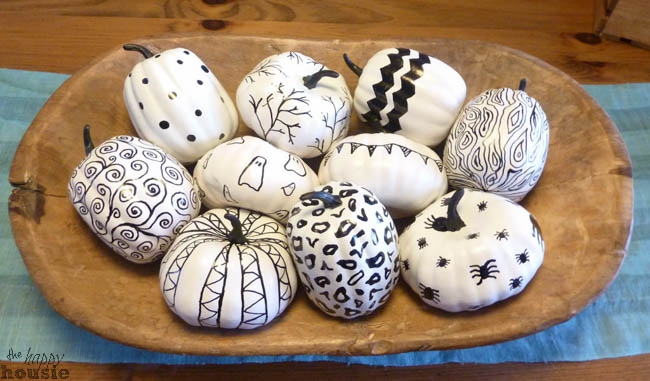 Fun Sharpie doodles add interest to painted white mini pumpkins, as seen on The Happy Housie. Try grouping a bunch of them together to show off multiple designs or go big and make a statement with one large black-and white pumpkin.
Gauzy Glow Pumpkin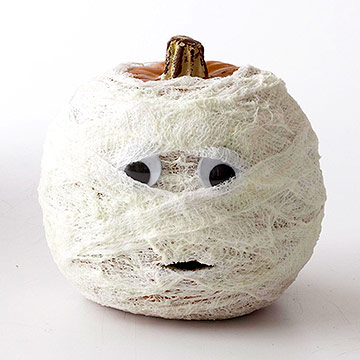 A mummified pumpkin is a great idea if you're looking for something with a bit of spook to it. This one, from Better Homes and Gardens, is sure to catch the attention of trick-or-treaters.
Watercolour and Gold Pumpkins
I love the look of these bright pumpkins from Nest of Posies, especially when they are pictured together. Glitter and gold stems are the perfect final touch.
Donut Pumpkins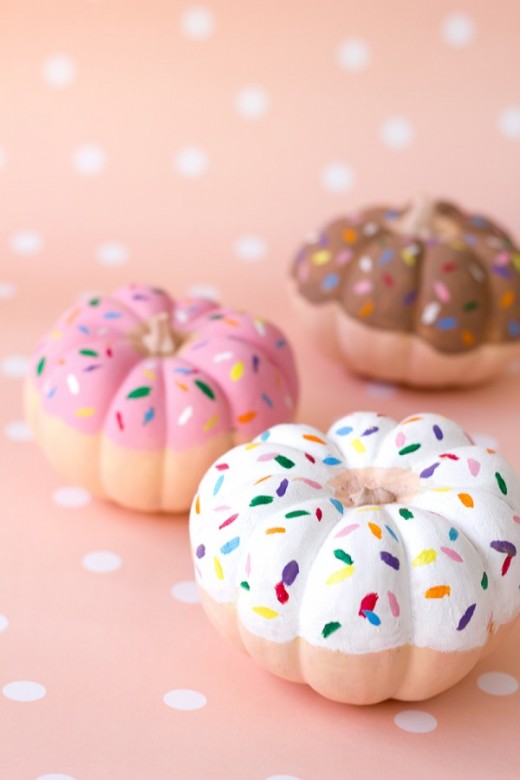 How cute are these donut pumpkins from Studio DIY? They are painted using acrylic paint and are deliciously easy to create!
Spider Web Pumpkin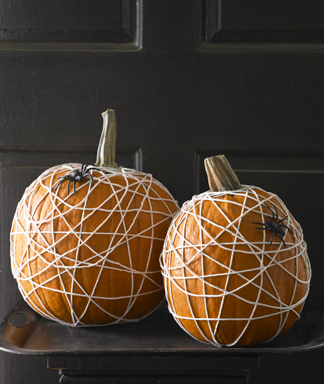 This straightforward no-carve pumpkin from Woman's Day is wrapped with twine and embellished with plastic spiders to make your skin crawl.
Crayon Drip Art Pumpkin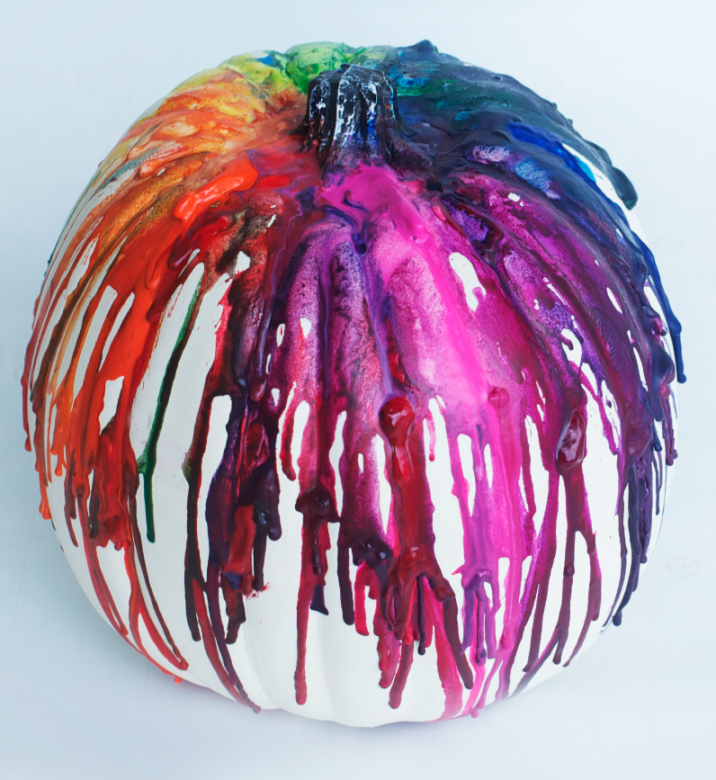 I love this cool design from The Swell Designer, created by melting a spectrum of crayons over a white pumpkin. Best of all, there's no way you can make any mistakes with this abstract project and your pumpkin will be totally unique.
Funky Ombre Pumpkins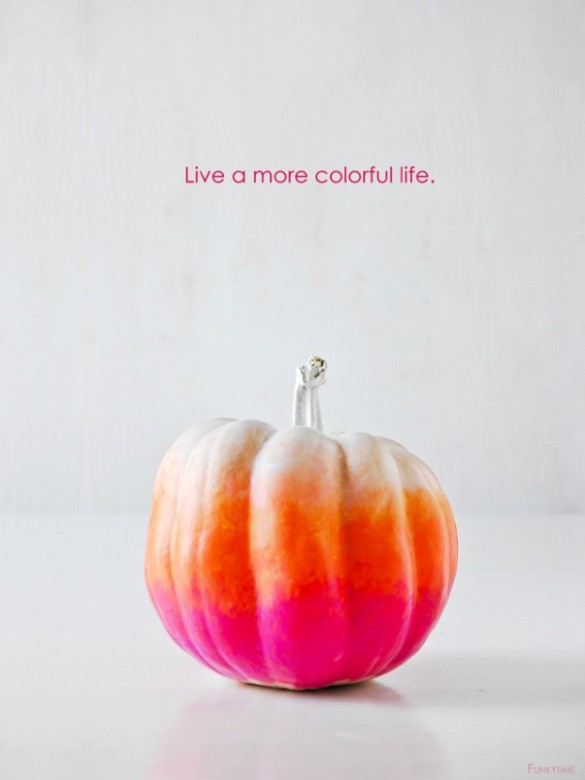 Ombre isn't just for your hair, ladies—the gradual colour change happens to look good on pumpkins, too. This vibrant design from Funkytime is the result of three separately painted sections blended together with a cotton ball.
Metallic Pumpkins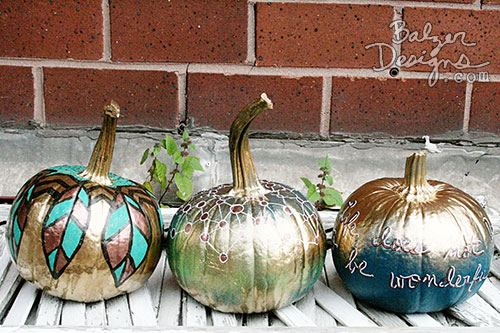 These pumpkins from Balzer Designs are so gorgeous—they look like something you'd purchase from a home décor store. Metallic spray paint takes these pumpkins to another level and paint markers let you get as detailed as you'd like with the designs.
Glittered Pumpkins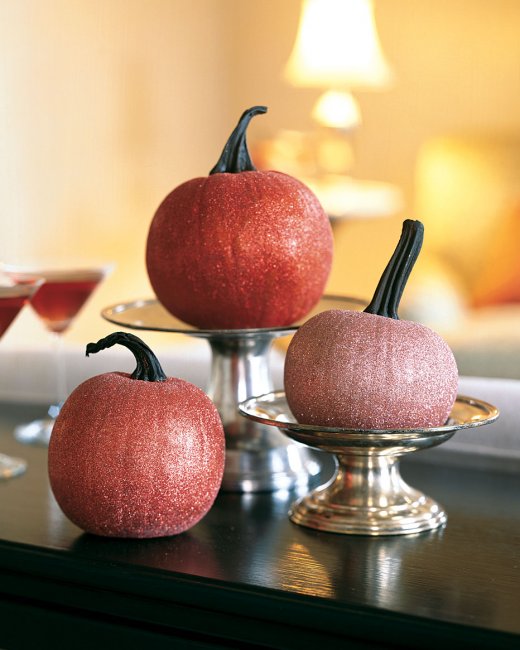 I am drawn to anything that sparkles, so I obviously got excited when I saw these pumpkins by Martha Stewart. These dazzling gourds would look lovely either indoors or outdoors, and would also make for stunning décor at a fall wedding.
Chalkboard Paint Pumpkins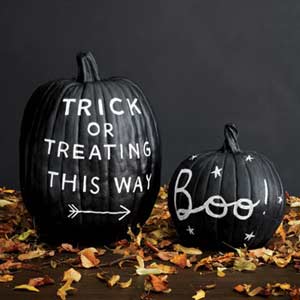 A simple way to have fun with your pumpkin, as seen on Every Day with Rachel Ray: paint it with black chalkboard paint and write spooky messages or countdown the days to Halloween.