What is it about women in Brazil that makes them so beautiful? I've had this conversation several times and often my friends and I will joke about how, according to what we read in the magazines, they all start getting plastic surgery as soon as they are able to. I mean, how is it that they can look so perfect?
Jealous? No, but I'm curious. So, I met with Filosofia recently as they've introduced the line of Brazilian-made swimwear to Canada.  I wanted to find out if they  had any insight. I'd love to know that they just eat kale everyday. But what I've learned changed my image of Brazilian women and how I shop for bathing suits.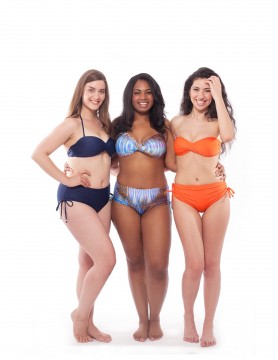 "When I travelled a few years ago to Brazil, I noticed that the women on the beach exuded confidence," said Adyam, designer and founder of Filosofia. "At first I was surprised as most women on the beach were in all sorts of bathing suits and bikinis and they weren't all built like supermodels like most of us imagine. Instead I saw all shapes and sizes but it was how they all seemed comfortable in their own skin and that's what inspired me to start this line."
On that same trip, Adyam and her friend discovered that bathing suit options were far greater in Brazil than other places they had travelled and they bought as many as they could pack into their luggage when they returned home to Canada. "We were excited to find great fabrics both in quality and style for bathing suits that we just couldn't resist!"
So, with there stash in tow, they returned to Canadian soil and did some unofficial testing of what they had found just amongst their friends and family. The bathing suits were quickly snatched up by everyone which prompted her to leave her corporate career and become a 24 hour/7 days a week entrepreneur.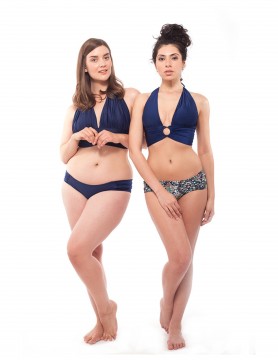 She returned to Brazil and did her due diligence meeting with women who were experienced in the craft of creating flattering swimwear for all body types. She sourced out the fabrics and took indepth notes on what women want in bathing suits.
What was also important to her was that the company respected that Brazilian lifestyle and philosophy of being comfortable in your own skin. The brand itself, Filosofia, is Portuguese for "philosophy".
I was drawn to the line as I was introduced to it recently. I admit that I'm a quite shy when it comes to wearing a bathing suit but I had done a bit of research about Filosofia and was interested in the thoughtful details of designs and patterns that I had not seen before. In fact, several bikini bottoms were designed with "muffin top" in mind. I also admired the variety of shapes and sizes shown in the bathing suits on the site which gave me a relatable image. "I could see myself in that" was my thinking. But the one that caught my eye fast was the "Carmen"  one piece suit. Sometimes one-pieces can make you look bloated but this one has the right diagonal sewing technique that works better.
I had mentioned that I've owned several one pieces that really suck you in ..but a couple hours in one and you're ready to peel out of it and fast. The fabric used in Filosofia are comfortable and I don't feel like I'm wearing a corset.
Anyway, I've got some learning to do from those Brazilian women on the beach and I'm going to try that soon enough! I just have to remember to work with what I've got!
We all should…. because confidence is beautiful, right?
To see the current line, visit filosofiaswimwear.com