How many times are we taken back to that memory because of a certain scent? It may be triggered by blossoms, spices, nature or even people we meet.
When I was growing up I had a lilac bush just outside my bedroom window and it's still something I talk about this time of year and I admit to secretly snipping a few of my neighbour's abundant lilac blooms to bring into our home. I see strangers in early summer months stop in front of our house breathing in the Linden scent from our well established tree. It's beautiful to see nature's gifts enjoyed this way.
There are scents that also have transported me back to places of incredible travel experiences. The coconut, lime and pineapple scents from lotions (or maybe a pina colada) that breezes by reminds me of our Caribbean beach vacations. The smell of orange and jasmine blossoms remind me of standing in the tranquil hilltop of San Anselmo in Italy. I was obsessed returning from that trip determined to find it in a bottle which I successfully did in Jo Malone Orange Blossom.
I had discovered light fresh fragrances like BVLGARI's Eau Parfumee Au The Vert  and L'Occitane's Verbena while on business trips. Scents that evoke great memories and I had fallen in love with—both have  become a permanent scents in our home. Verbena is lemony-clean, fresh scent. The Verbena plant was (and still is) considered to be a miracle healing plant that was believed to not only improve health but also to drive away the evil eye! The plant leaves are used in scent but have also been used for digestive purposes because of it's soothing powers. The scent is one we love to have in our home and reminds us of sunny days and summer evenings. Now I've noticed that L'Occitane has also introduced a Citrus Verbena  (aka Verveine Agrumes) summer fragrance that's a nice refresher to the classic that includes essential oils of grapefruit and lemon from Corsica, Italy! (The shampoo is one of my must-have items for summer!)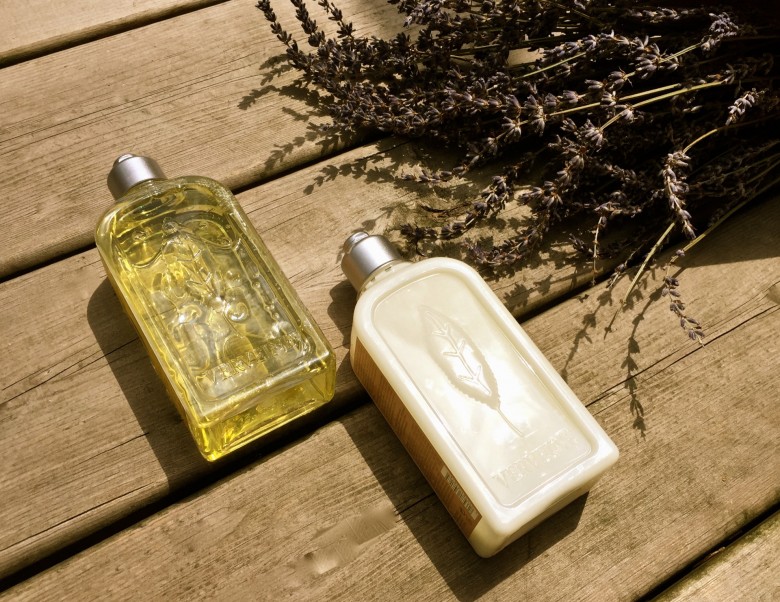 While visiting Beverly Hills I was introduced to DayNa Decker's line of fragrant products again in a hotel. It was such a fun-filled trip that whenever I find this line I'll snatch up a few candles and smile remembering the elegant and surreal time we had hanging poolside not realizing what celebrities were within earshot.
But nothing stands out more than the L'Occitane La Collection De Grasse for me when associating scents with travel. Having visited the South of France and  the area of Grasse, where fragrance is ingrained in its history I can still experience everything that I had learned, smelled and touched about the area. The latest scent to the collection captures the rare beauty for the Iris Pallida flower—what was originally a Croatian plant, the story is in 1999 it was brought into the region and planted by a local who fell in love with the flower while on travels in the Alsace. The location has helped the flowering plant thrive and now sought after by perfumers. L'Occitane has recently added this essence into a new Iris Blue & Iris Blanc fragrance to the line that is as subtle and beautiful as it sounds.
Do you have a beautiful scent that reminds you of a travel?
I always enjoy finding out more about fragrance stories and what we put on our bodies. This is beautiful…