For the past couple of years we've seen an explosion of nail art. Thanks to the surge of street style and fashion runway influences there's never been a more fun time when it comes to how we show off our personalities through beauty trends. We love it! With the upcoming holiday season there are endless inspiration found all over social media. Just check instagram and pinterest and you'll find endless ideas for #nailart
But there's also a time and a place. What our daughters wear may not be the right look for the office so before we DIY or bring the inspiration to our next nail appointment here are some handy tips that I've asked John Nguyen, CND's Education Ambassador recently on the heels of New York Fashion Week.
There are so many different trends happening now! As much as I love them, how do I take it from the runway to everyday?
For the Spring Summer 2016 season at NYFW, nails coming down the runway were shorter in length and shaped in a soft square. This shape and length works beautifully for everyday as it is manageable, and can be worn every day without complication. The nail art trend for the season was bright, bold and graphic. Designs ranged from checkerboard patterning, colour blocking to splattering. To re-create runway looks in real way fashion, I recommend taking sections from bold patterns and designs found in your everyday life and re-creating your own nails. This reduces the amount of detail work required, but still gives you the fun, unique and creative look!
What about the shape and current trends?
Determining which nail shape will suit you best can be easily achieved by using the shape of your cuticle line as a guide. Mirroring the shape of your cuticle line to you nail shape will provide the most flattering and sleek looking nails. For example, if your cuticle line is round, your nail shape should correspondingly be round For longer nail lengths, an almond nail always looks stunning! Short nails with a soft square shape is functional and looks very clean.
For the corporate office: Solid neutral colours such as Romantique and Field Fox in CND Vinylux Weekly Polish are excellent choices for a conservative yet chic look. However, you can always wear a classic shade such as Wildfire or a deep rich colour like Asphalt.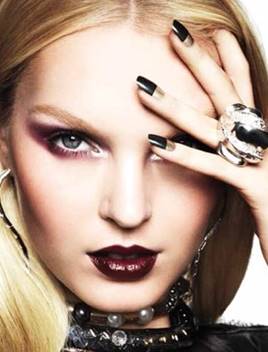 For the creative type: Nails being the greatest fasion accessory, it's always fun to step outside the box and get creative! Breaking the conservative look wthout going voer the top all while keeping nails looking elegant can be easily achieved with a simple two-toned manicure. Using a metallic polish such as Safety Pin combined with a dark colour like Peacock Plume, gives beautiful contrast and a distinctive look that is wearable in the office or for a night out.
For the upcoming holiday party season? 
CND has the beautiful Aurora collection which is inspired by the arctic Tundra. The collection colours range from deep an sparkly to warm neutrals. These colours can be layered for a more dramatic winter holiday look but also look stunning worn as a single colour on their own!