It was the summer of 2009, and I was at one of my lowest points. My mother was dying, and my sisters and I, along with our dad and my brothers in law, stood vigil by my mother's bed in the palliative care unit at Princess Margaret Cancer Centre (Canada's leading cancer research centre and one of the top 5 in the world) for several weeks.
It meant a lot of time spent in a place that could have been frightening and sad. And indeed, there were times where we felt both. But amazingly, what comes back to me most about Princess Margaret is the overwhelming sense of hope one finds there. And it's not just the hope that your loved one will be cured of their cancer. Unfortunately, for too many of our loved ones, that is not their reality. But even in the face of terminal illness, there is hope. Hope that research will lead to new treatments and diagnostic tools so that others might not have to endure the same. Hope that networks of support will reach up to envelop those of us left behind. Hope that we can conquer cancer in our lifetime.
Each evening, as I made my way through the lobby of the hospital to spend the night at my mother's bedside, I would pause a moment in the atrium, and look up at all the doves suspended there. As it turns out, over 55,000 thousand Doves of Hope have been displayed at Princess Margaret Cancer Centre and online over the past 12 years. Each one represents a life touched by cancer – and a hope for the future. Those doves offered me hope and  comfort during one of my life's toughest trials, and so this year, I've dedicated a Dove of my own, in honour of my mom.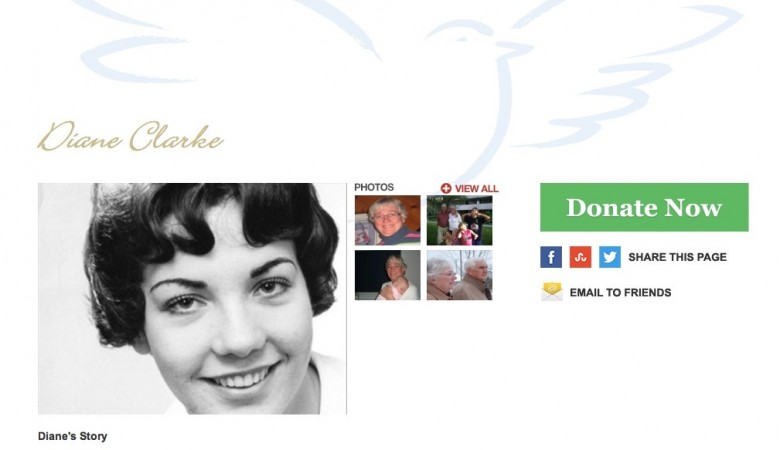 Even though my mother knew her destiny wasn't to be a cancer survivor, she still maintained a spirit of hope that helped to carry us all through the painful journey. And a good measure of that hope came from the remarkable people she met at Princess Margaret. Just about everyone we met there made an impact, showing my mom that she wasn't alone in her fight against cancer, and promoting the very spirit of this campaign: hope.
Take a moment to watch this video of the 2012 Doves of Hope Campaign launch; it's truly remarkable:
[youtube id="kyLYPJCXZx8″]
As I prepare for the fourth holiday season since my mom passed away, I can't help but remember 2008 – our 'best of the best' Christmas – our last Christmas together. I hope you'll take the time to spread a little hope by visiting my mom's Doves of Hope page, and perhaps make a donation while you're there to support the Princess Margaret Cancer Foundation's goal to conquer cancer in our lifetime. Or if your life has been touched by cancer, dedicate your own Dove this holiday season to bring hope to cancer patients over the holidays.
This post was sponsored by Princess Margaret Cancer Foundation, but all the experiences and opinions are my own. I donated my compensation from this post in my mother's honor on her Doves of Hope page.