December 1st is just around the corner, and in my house that means it's time to pull out the boxes from the highest rafters of the attic and the deepest corners of the basement, and start decking the halls.
The decorating of the house is a task that I simultaneously dread (the boxes…the stuffing…the nasty surprises of broken angels and moldy stockings) and love (the house…all decorated…cozy and Christmas-y). If I could have one single wish for Christmas it would be a fairy who would decorate my entire house on December 1 and put it all away on January 2, while I sit by the fire sipping Bailey's.
That's not going to happen, so I've been scrounging the malls and the internet finding the best holiday decor ideas for Christmas, and the good news is that there's a lot out there, and there's something for everyone.
Here are some of my favourite pieces for holiday decor.
All of these items are available in stores, or online, and you've got time to have them shipped to your house before Christmas. I can't deliver on the Christmas decorating fairy, though.
CONTEST!
Our friends at Lands' End want to help you get in the holiday spirit, and they're offering one UrbanMoms member a $250 Lands' End gift card to shop online. Leave a comment below to tell me about your favourite holiday decoration. Here's mine…she ain't pretty, but this was from my son's Junior Kindergarten class, and I came in to help with these angels…using the same template that my mom had done in my Kindergarten class years before. Contest closes: December 15, 2013 at 12:00 noon EST.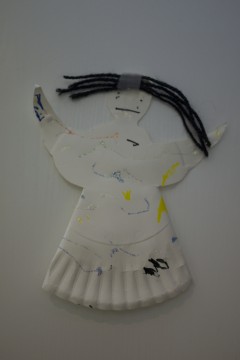 To get you into the holiday spirit, on Cyber Monday, Dec. 2, Lands' End is hosting its fourth annual 12 Hours of Twitter event from 8 a.m. until 8 p.m. CST. Social shoppers can join the fun at #Together and follow @LandsEndPR on one of the busiest online shopping days of the year for giveaways, offers and advice. Each hour will feature a different holiday theme and co-host, and @UrbanMomsCa will be kicking the whole thing off, hosting the first hour of the Twitter party. Follow along for holiday decor ideas and chances to win great prizes!

Rules and Regulations for the $250 gift card giveaway.