This is a guest post by designer, Silvia Mazzone of edesignboutique.com.
My first home was a small starter that was in an ideal location, but the house was definitely not a 'keeper'. As a result, I had resolved to renovate minimally, which meant I didn't get my dream bathroom. Consequently, when I purchased my current house five years ago, I was most excited about renovating the master bathroom.
I began the design process with a strict budget, and I managed to design a very functional, modern bathroom vanity mixing a few custom items with some pre-fab box-store components. I also acquired a stunning free-standing bathtub, which was a critical piece of the design puzzle. Next -the piece de resistance- a sleek wall-mounted faucet with a modern European look. Unfortunately, the only fixture that was suitable was also cost-prohibitive, so once again, I had to compromise my vision.
Recently, I was designing a small powder room in which a wall-mounted faucet was required due to space limitations, and I discovered that Delta had recently introduced an amazing wall-mounted faucet with a clean, modern, European design at a great price point. The Trinsic wall-mounted lavatory faucet is a solid brass fixture, which comes in a variety of finishes to complement any design. (Personally, I am loving the gun-metal and brass finishes right now!) The Trinsic Line also comes with coordinating accessories such as towel bars and paper rolls to help make the entire bathroom design seamless.
My next project will be an update of my own master bathroom, in which I finally get the wall mounted faucet I have always wanted!
This post is sponsored by Delta Faucets. The opinions and experiences are my own.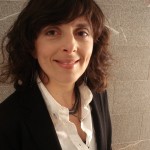 Silvia Mazzone is a Designer of architectural interiors who has worked on several award winning projects with some of the country's leading Interior Design firms. Before pursuing design, Silvia studied biology at the University of Toronto. Science continues to influence her interiors, as Silvia applies the organic way form influences function and how light and color influence mood and behavior into each of her designs. For the past 10 years, Silvia has been working independently, focusing primarily on residential interiors. At Edesignboutique.com, Silvia and her partner developed a menu of interior design services, which makes her custom design expertise available to everyone on line.