I've been to spas before and have spent anywhere from $80 to $250 on a facial. Some were straight forward maintenance type of facials—you know, with extractions and that steaming machine that opens up your pores? To the extreme, I've tried luxurious facials that include the soothing sounds of trickling water, a woman speaking softly—or not at all. She would treat my skin to ingredients that really are mother earth's gift to us. Essential oils and unique ingredients that hosts nutrients and natural properties to carry us away to the lavender fields in the South of France, or the vast vineyards of Napa Valley. It's a luxurious experience that takes away our habit of checking our cellphones every few minutes. Ah. Yes, those are moments worth stealing.
But okay… what if you want more? What if you want serious results? I had recently posted about the crazy brown patches on my face. It turned out that I had a common skin pigmentation problem that affects many women after having kids. It's affectionately known as The Mask of Pregnancy, or Melasma. I say HAD because I've been religiously going to the Toronto Centre for Advanced Skin Repair for a recommended series of six glycolic peels (aka Lunch Time Peel) to lessen the severity of the brown splotches. I've been going in every two weeks.
I admit that I was hesitant at first. After all, it's a chemical peel and I had never attempted anything like that. On a side note, however, I did have  a laser treatment a few years ago done by my regular dermatologist to get rid of a deep sun spot on my cheek. I was warned it would come back… and it did.
Glycolic peels are among the mildest and most popular acid peels because glycolic acid is considered to be natural. It's derived from sugar cane and belongs to the "alpha-hydroxy acids" or  fruit acids family. In fact, fruit acids have been used by island tribes and Eastern cultures for their restorative effects for years. What's interesting for me to learn is that there are many uses for this acid. To an extreme, if used in high concentration it can remove rust from metal. Gulp! But don't be alarmed! The concentration used on treatments for the face is obviously waaaaaaay less! Having understood this myself, it's even more important to go  somewhere reputable and even better if you go somewhere with a doctor or a nurse rather than a skin care technician who will know how to monitor the reaction to your skin. There is no cookie cutter solution. It's definitely based on individual circumstances with someone who is experienced. But it's given me serious results that are clearly noticeable.
What happens during a glycolic peel?  The actual application is mere minutes—for instance, I haven't gone more than 6 minutes yet. During a glycolic peel, the solution is brushed or sponged on the face and left on the skin. Dr. Sliwowicz recommended that we start easy with a 20 percent concentration for only 3 minutes to ease me in. Now I'm at 30% for 6 minutes. The strength of the concentrate and the time it spends on your skin really depends on your skin's reaction and your tolerance. Each time I've visited, the nurse and I chat about the previous peel experience to find out if I had any concerns. Neither she, nor the doctor, have pushed me beyond my comfort zone. I really appreciate that. While I want to see results, I'm still a big wimp. Not gonna lie, it feels like my face is burning but they are closely watching the entire time and fanning my face which helps ease the sensation. Once my skin is just starting to  turn red, I'm literally doused with water to remove the acid. Twice.
I apply sunscreen (SPF 70)  immediately after the acid is washed away and by the time I step out of the doctor's office, my face is no longer red. I can see why this is called the Lunch Time Peel, it's fast and with minimal reactions if any. You can continue on with your day.
It's not a lovely pampering spa treatment in any way but it's more clinical and results driven. I've learned however that since glycolic peels are the "gentlest" of acid peels, it will often take a few treatments to notice a difference. I've committed to six treatments, with one more to go, but everyone has noticed. My skin is definitely more evenly toned, brown patches have faded and it even feels more youthful. How do I explain it? Before, it felt like thick orange peel but now it's healthier in look and feel. Apparently the glycolic peels are also good for dealing with depressed acne scars.
Are there any complications? The staff at the Toronto Centre for Advanced Skin Repair tells me that some people may experience slight pink-ness for a few hours and maybe even some peeling afterwards but applying a moisturizer, which most of us do anyway, should clear it up. So if you have an special event to attend, just plan ahead. And yes, both men and women are loving this treatment.
Will my brown patches come back? If I'm not careful, they might. But I've been told to use sunscreen all year round and try to keep the sun off my face. I'm definitely pleased with the results and after my sixth treatment, I'll take a break and just go in once a month for maintenance.
How much does this cost? Six Glycolic Treatments cost $595 (individual treatment prices also available) and the consultation is free. The Toronto Centre for Advance Skin Repair is located at 2401 Yonge Street (Yonge & Eglinton) in Toronto.
Now..what do you think about Botox? Should I try that next? (yes, they do that too!)
Here's the before…..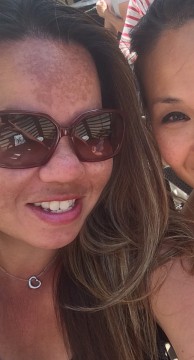 And the most recent….