We hear the words artisanal a lot these days but when it comes to beauty what does that mean?
For Candice Suchocki Weir, founder of Canadian Indie beauty brand, Jordan River Soapworks, it means much more than just hand-made. "Artisanal is a way of life," explains Candice. "We love making a product with our own hands, with love, and sharing it with our community. It takes much longer to produce a product this way, but through our 'micro-batch' methods we know first-hand what goes in our product, and that the ingredients are truly of the highest quality."
Living on the west coast of Vancouver Island, it's easy to see where the company draws inspiration. Surrounded by raw beauty and stunning raw materials, the founder's interest in ocean botanicals is ingrained in her products. "I was a surfer and sailor for years and spent many hours on and in the water. This curiosity lead me to meet some of our local harvesters and producers," said Candice.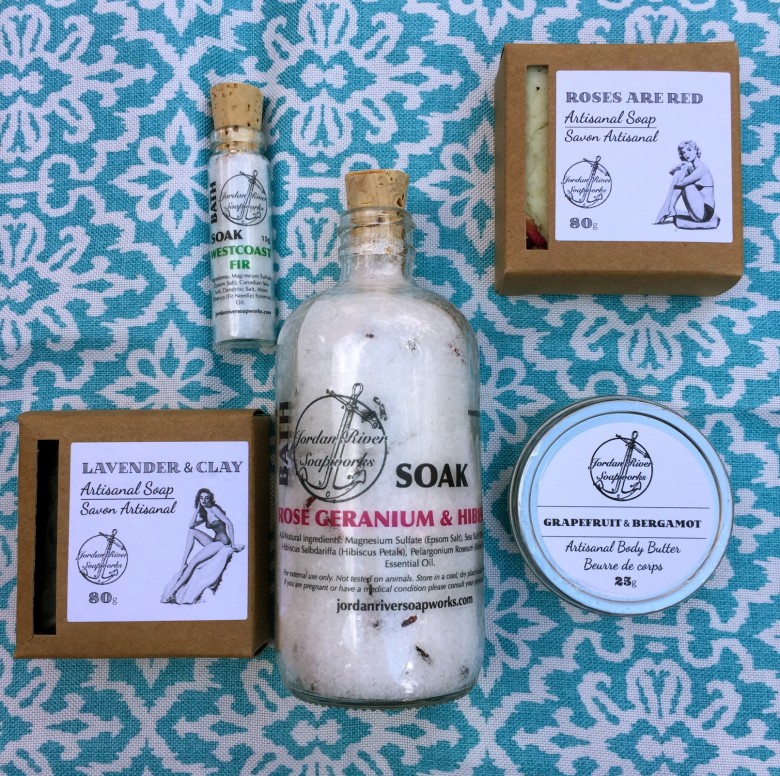 And this is what drew me to the line of products. Candice tells me that the seaweed harvester, Amanda Swinimer, is a surfer, a herbalist and a marine biologist. Amanda's company Dakini Tidal Wilds had been wild-crafting herbs for several years after studying algae physiology. Her natural love for seaweed had her harvesting her own, drying it and eating it. When Candice learned more about the seaweed harvest she knew she had to work with Amanda.
"Our suppliers put so much passion and care into the work that they do; it's inspiring," said Candice. "There are so many factors that affect wild harvesting from the ocean; timing, weather and the local ecosystem. I have a huge level of respect for these professionals."
How is seaweed harvested for her products? Candice has a fascinating blog about her suppliers that explains the suppliers and their processes. Seaweed harvesting varies depending on species but she explains that pruning the existing plant and allowing enough of the root to continue growing is how it's done. This allows for several harvests throughout the year. "I have seen a plethora of creatures and being among the kelp forests is an experience that enters the soul," says Amanda. "Seeing our Pacific Northwest from this perspective makes me fully realize why are oceans have been referred to as 'The Emerald Sea'".
Seaweed is known to have various health benefits internally and externally. It's a therapeutic way of relief when bathing in it in a tub and it's also been known to promote healthy skin and hair.
Both seaweed and sea salt are locally harvested and used in Jordan River Soapworks' beautiful line. They also use a local pacific marine clay that creates an amazingly creamy lather in the Lavender and Clay soap. All of their salve style body butters and lip butters feature local beeswax and they use local botanicals (like rose petals) whenever possible.
Now that's artisanal beauty!