Summer time can present a bit of a challenge when it comes to exercising. With the kids being out of school for a couple of months I don't feel the need to rush around as I do the rest of the year. I walk my little one to school every day 10 minutes each way; that's pretty much my  minimal amount of exercise! I purposely leave late so we hustle our butts out the door and get in a decent walk several times during the school days.
So, now that summer is here and there's no more walking back and forth, I'll definitely need a little more motivation to get moving.
Last week I met up Olympic medalist Joannie Rochette to get some tips on to keep motivated during the summer months. Joannie is the celebrity ambassador for Dr. Scholl's 1 Billion Steps Challenge in partnership with the Canadian Heart and Stroke Foundation. Together they are challenging Canadians to collectively take one billion steps this summer.
"We want to inspire all Canadians to get walking, running or whatever. We spend the whole winter inside and have the excuse not to go out when it's cold. So, now that it's warmer, we have no excuse not to go outside for fresh air," says Joannie. "Walking is great because it's not just great for the physical benefits but also great for your mood. What I like about this program is that it encourages people to walk — we don't have to do a crazy work out but start slowly. You just need good shoes and aim for 30 to 60 minutes of walking."
Joannie Rochette is a six-time Canadian women's figure skating champion and Olympic bronze medalist. A skater since the age of 22 months, physical activity has always been part of her life. In 2010, her mother, Therese, died of a heart attack just days before her daughter would skate for the bronze medal at the 2010 Winter Olympics in Vancouver. Since then, Joannie has dedicated a significant part of her life to initiatives that raise awareness and understanding of heart disease.
"Walking is great because it's not just great for the physical benefits but also great for your mood."
So, what gets her walking?
"I live in the city and use public transportation so I'm walking a lot more. It's much easier to walk than to park a car sometimes in the city," says Joannie.  "My boyfriend and I love to do hiking trips too in Quebec like Mont Tremblant or even Old Montreal on the weekends. Shopping also gets me walking and I sometimes don't even realize how much I've walked! It all counts!"
What other tips does Joannie have? "You need a comfortable pair of shoes, obviously better in flats or running shoes as long as you have the right support why not go for a nice walk during your lunch break at work? And watch your posture too because you can hurt yourself easily doing any exercise. Proper insoles can come in handy as some can help improve your posture."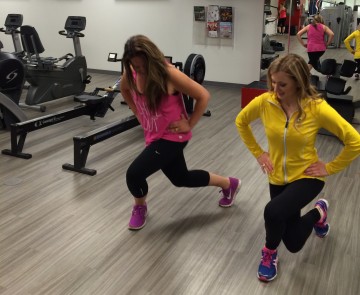 "Do some warm ups before going for a walk with simple rolling of the ankles and hips before heading outdoors. Lunges are also affective ways to keep limbred for your walk. And take the family out with you! Everyone needs to get outside! Easy enough, right? You can do it!"
The objective of the Dr. Scholl's 1 Billion Steps Challenge is to help Canadians get active while supporting the Heart and Stroke Foundation. The goal of the program is for all participants to collectively walk at least one billion steps, for heart health in Canada. By enrolling, participants will receive incentives, tips as well as the chance to win a trip for two to Rome, Italy.
I'm in!