When you have time to think and assess life, ever wonder what you can do to make the world a better place? I'm not talking about massive changes—unless you want to, of course. But what manageable steps can we take in our lives, right now? How can we adjust our everyday lifestyle to do our part for the environment, the world, and for our kids?
I spotted this tweet from Telus that has Twitter buzzing that has me thinking… not just for this month but for the long term.

BTW… you can add your tips and ideas by tagging them for a chance to win cool prizes during the month of January. Details here: 31 Day Sustainable Challenge.
So, I started thinking about what I can do that would suit my lifestyle.
Since I attend some pretty interesting events in the city, I need to dress the part—and not look like I'm taking my kid to school in my Sorels necessarily. Opening night parties, art exhibitions, charity events, concerts etc. are definitely fun to attend! I love dressing up and supporting designers but it's difficult to justify spending so much money on a new outfit each time.
A friend of mine had mentioned several times to visit Hazel Lily Designer Consignment shop for top notch designer brands. What? Really? It was like walking into some superstar's closet!
What's in there? If you've discovered a good shop like Hazel Lily, stick with it. It's likely someone in the social scene had worn a piece once and had to discreetly sell it off or there may have been an over-run of an item and it's sitting brand new on the racks—again at a fraction of the price sold at retail. I've seen original price tags still attached on items, maybe a regretful impulse buy. It's also a great place to find designer purses! But again, trust your source and make sure it's legit and NOT a designer knock-off.
Cities like New York and L.A. have made it very fashionable, and smart, for fashionistas to sift through designer goods at a fraction of the retail price. You can still support the designer label, look smashing and live a more sustainable and fashionable lifestyle. Even celebrities like Nelly Furtado shops at places like The Cat's Meow—LOVE Nelly and her support is full circle from her ongoing support of charitable organization me to we to showing us that we can make mindful decisions even on the red carpet.
But get to the know the owner and check their Facebook pages. You'd be surprised what might be waiting for you. Like, OMG this Hermes Berkin!!!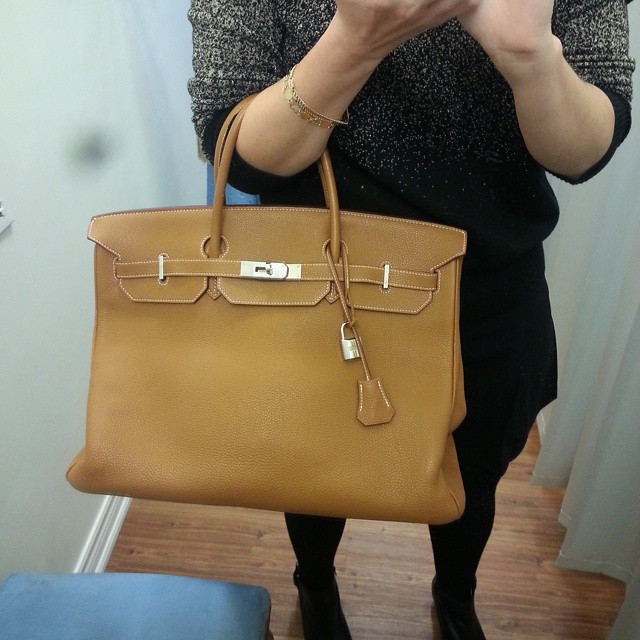 Here are some really great designer consignment shops in Toronto…
Hazel Lily Designer Consignment: 3235 Yonge Street
LAB Consignment: online or in person by appointment only
VSP Consignment: 1410 Dundas Street West
The Cat's Meow Couture: 180 Avenue Road
Fashionably Yours: 709 Queen Street West,  also online
Kind Exchange: several locations, if you're going for designer goods, go to the areas closest to the well-heeled crowd.
Also, if you prefer not to buy because you really, really, really have no other time you would wear that frilly feather trimmed dress, then consider renting your heart-stopping number from RentFrockRepeat! You'll be the envy of any social event without that credit-card-reality-numbing-post-purchase syndrome.
So, while I'm already packing litterless lunches, reusing bags, recycling and upcycling what else can I do? Got any cool ideas? I'd love to hear!