I've always admired people who have found a passion in the form of exercise. I've tried a few things but never really found anything that kept me motivated. So, when I was invited to participate in the Summer of New Balance — a series of fitness and lifestyle experiences —  I was curious. Each session in the series is lead by Canada's top fitness professionals and entertainers like Trish Stratus; celebrity trainer, Brent Bishop; fitness personality, Jennifer Ettinger; So You Think You Can Dance alum, Miles Faber and others.
I built up my courage and joined in a dance workout  led by Miles Faber. For the record, I don't think I can dance. So, when I walked into this class at Hard Candy Fitness in Toronto, I immediately made it known that I have two-left-feet. "I am not that coordinated," and I offered apologies ahead of the class. Miles laughed at me and just before everyone else arrived I begged him to give me a head start to ease me in.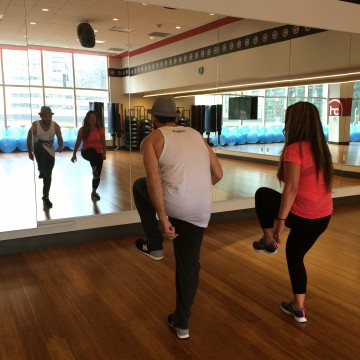 I grabbed my coconut water (there was nothing stronger) from the juice bar and was fitted with the the latest New Balance Cush+ Cross-Training shoes and an ICE Intuitive Cooling Impact short sleeved shirt.
Miles briefly introduced the history of hip hop and urban dance to us. You can see the passion in his eyes. "There's a misunderstanding in the general public about Hip Hop," says Miles. "It's more than music — it's a culture and a lifestyle. When Hip Hop was invented it was all about unity, togetherness, peace and love."
Miles went on to explain the four elements of Hip Hop culture: Graffiti, which is the visual art aspect; MC, which is the spoken word and poetry; DJ, for music; and then there is B-Boying and B-Girling (also known as break boy and break girl) which is the dance aspect that was often seen during parties. "Originally, in the Hip Hop culture there were block parties, of course, where the MC and DJs would play their music and at certain points when the music is played, you would only hear the bass and the drums called 'the breakdown', this is when space would clear at the party and dancers would come out. That was how the phrase break-dancers was created. Eventually many of the dance moves were adapted into the mainstream. But it wasn't about getting down and breaking your bones as many people think."
We were psyched! Okay, we knew he wasn't going to teach us the worm (I asked) but he did teach us the basic moves of Hip Hop throughout the class. And yes, I kept up! Next thing I knew, the hour was up. Seriously, I've never enjoyed a class so much!
Miles chatted about his experience on So You Think You Can Dance. What most people don't know about Miles is that he had no formal training in any traditional dance styles like jazz or ballet. "I started dancing when I was fifteen with b-boying and breaking so I started a little later than others. I did some hip hop classes but I wasn't as experienced as everyone else." said Miles. "For the show, I had three days to learn a dance style that I've never  done and then perform in front of millions of people live and on TV. It was cool but a source of grey hairs for me."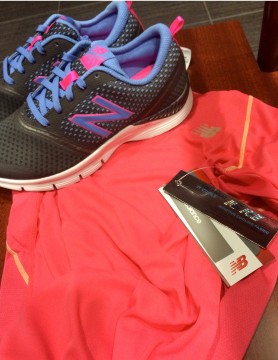 Miles showed us that exercise can be fun even for the hardest to convince (ahem, me). Incorporating dance into a work out didn't seem like a work out at all. An hour of dance with Miles and I was sweating but I give full credit to the NB Ice shirt for making me feel in control. The cross-trainers (style 711 Mesh) were gave great support and cushioning where I needed it the most. The shoes are lightweight and flexible so I could do the moon walk with ease! I can see why there's buzz around them. CUSH+ is the main feature of this style that offer a softer and lighter responsive performance cushioning making it ideal for fun work outs and everyday use.
Now that I've learned how to "pop and lock," I may have found my calling.
Thanks to Miles Faber and  New Balance Canada for this amazing experience!