New York based designer rag & bone has teamed up with Holt Renfrew H Project to support Right To Play with a limited edition sports tote now available in stores and online. By purchasing these numbered rag & bone  totes, $100,000 will be donated to the cause.
Alexandra Weston hosted a beach party at Holt Renfrew's Flagship store in Toronto complete with Canadian athletes, Right To Play ambassadors (and a few hunky lifeguards) to bring awareness to the campaign. "I know as grown ups we like to play with our kids," said Weston. " That's what tonight is all about, having a little fun playing and learning more about  Right To Play. They bring childhood back to children who might not have that chance. There are really important lessons that can help stop the cycle of poverty. It may sound grand but it's as simple as that. It's an incredible organization and one that I'm very emotionally attached to."
Right To Play is an organization that uses the power of play to educated and empower children facing adversity in over 20 countries around the world. In 2010, Right To Play started working with various First Nations groups in Ontario, Manitoba, and since then, has expanded to BC and Alberta.The organization is supported by athletes who act as role models for the children they work with around the world.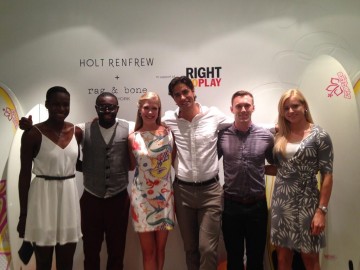 "On average it costs us $50 to to give a child a year of support in play programs," says Sarah Stern, Right to Play's Development Director. "At Right to Play is we use the simple form of play. Using a game of tag, for example, to teach kids about Malaria that actually kills more children under the age of 5 than anything else in the world and it's completely preventable. We know that in countries where we 're using these games, children's lives are being saved because of lessons they are learning through our games."
Marcus Wainwright and David Neville are the designers behind rag & bone and both are fathers of young children. Inspired by free-spirited surfer style of the 60s and 70s, these exclusive numbered rag & bone totes support Right To Play.  $55 each (and a great year-end teacher's gift, don't you think?)