Although I can't take credit for their athletic abilities or competitive nature, I'm pleased to appropriate many of the wonderful traits that I've passed on to my children; their love of reading, appreciation for a good joke, and aptitude for language. Unfortunately, with all that good (!) comes a little bad, and I've managed to pass on my seasonal allergies to my middle son.
He didn't start suffering until he was about six years old, but that spring was a doozy. Non-stop sniffles, sneezing, itchy runny eyes and a scratchy throat. The only relief he could find was cucumber slices to his eyes and a box of Kleenex by his bed.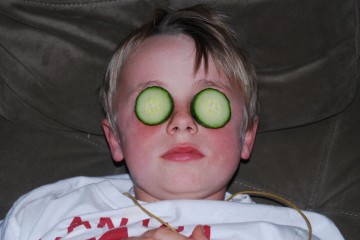 Not exactly one to suffer in silence (I think I'll attribute that personality trait to my husband), Connor whined and complained about his seasonal allergies so much that I began to dread an upcoming road trip to Chicago that we'd planned (9 hours in the car listening to him sniffling…and the complaints from his siblings on either side of him…yikes!)
Fortunately, his pediatrician suggested REACTINE® allergy medication, and it made his symptoms disappear. We made it to Chicago (sniffle-free) and enjoyed a great long weekend outside.
Now REACTINE®  has come out with REACTINE® FAST MELTTM Junior Dissolving Tablets. They also start to work on allergy symptoms fast and provide relief for up to 24 hours. They're a kid-friendly fruit burst flavour, so even your picky kids will be able to get these ones down easily. REACTINE® FAST MELTTM Junior Dissolving Tablets can be taken by kids 6+ for fast and effective relief of seasonal allergy symptoms, including: itchy, watery eyes; allergic skin reactions; hives; sneezing, running and itchy nose.
Being able to control Connor's seasonal allergy symptoms means I can go back to basking in the glory of all of the wonderful traits I've passed on to him…like his love of baseball.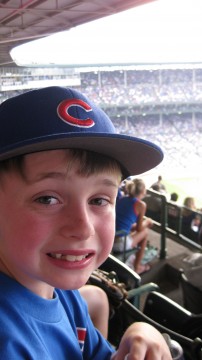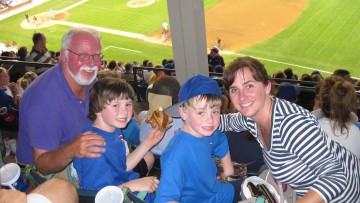 This post was generously sponsored by the makers of REACTINE®, but the opinions and images are my own. For more information, visit reactine.ca