One of my favourite things to do with my little guy is to hang out in the kitchen. One day we're baking cookies, the next we might be experimenting with baking soda and vinegar. But one thing is for sure, we are always using our hands and we are always making a mess!
This time of year makes that kind of fun time a bit tricky. You might be wondering why and it's because of two things really. Germs and the dreaded cold and flu season (which is now fully upon us).
I have enough trouble on my own staying healthy this time of year. It seems as though as soon as someone around me gets sick, I am joining them, sneezing, coughing and sniffling all the way through my day. Worst of all, when I get sick, I get those around me sick, too. So really, it's all about NOT getting sick this cold and flu season.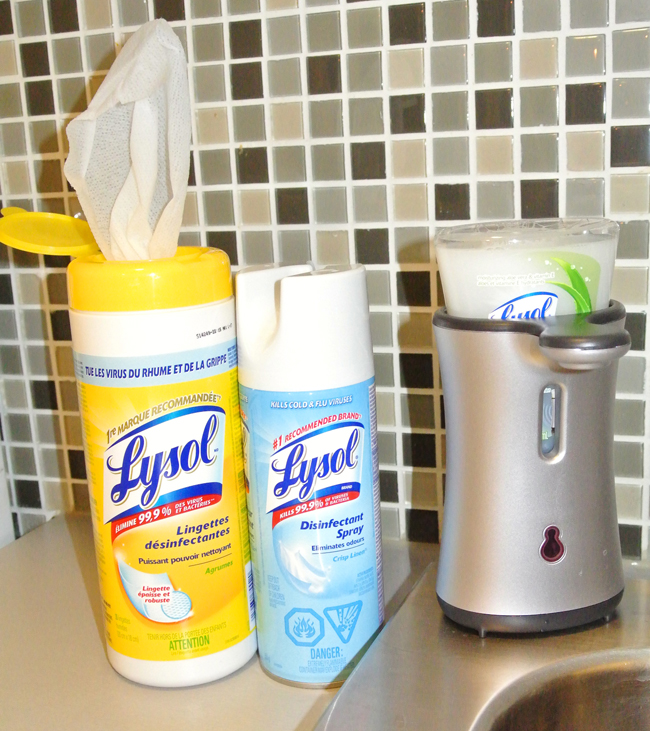 Easier said than done, right? Especially with kids, who seem to just get into everything for better or worse, avoiding the perils of cold and flu season can be hard.
When you add in the hands-on aspect of getting messy in the kitchen with kids… it seems inevitable that somehow we'll be passing our germs back and forth.
We all know the basics of what we can do to try to prevent the spread of the flu. Obviously, you can get the flu shot, if you are so inclined, but there are so many other preventative measures you can take.
Make sure you are staying active and eating well. Most importantly, get some greens into your diet: it will help to strengthen your immune system and ward off the flu. Remember, the more colourful the veggie, the more packed with supercharged with antioxidants. So focus on those dark green, red and yellow vegetables (and fruits)!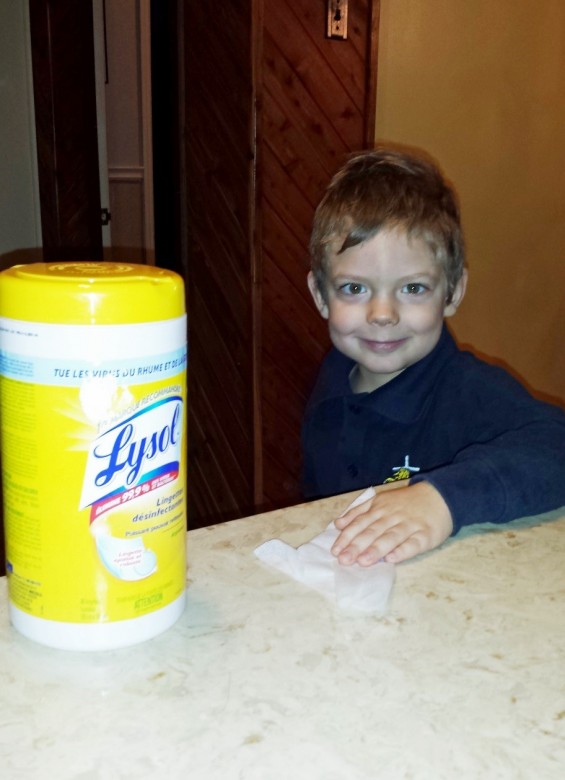 If you do get sick, or even just have a tickle in your throat, it's really important to remind kids (and yourself) to cover your mouth and nose with something other than your hands. Your best option is a tissue, but even the sleeve of your shirt is more effective than your hand.
The palm of your hand can hold bacteria for up to three hours… so if you do use your hand the next step should be to wash those hands!
While washing your hands may seem like a no brainer, it is one of the best preventative measures when it comes to fighting colds and flus. And if you're like me, spending time in the kitchen and around food with kids, it is a necessity. I love the Lysol No-Touch Hand Soap System because everyone in the house can use it without having to come in contact with a germy soap pump.
Fill it up with Lysol Antibacterial Hand Soap and you can make sure that hands are more than just squeaky clean. Lysol kills bacteria and viruses, so you can be sure those little hands are only spreading pie crust, not germs!
And once we are done in the kitchen for the day it's super important to make sure none of those germs are left hanging around. Studies have shown that cold and flu bacteria can live on surfaces for up to eight hours, EIGHT HOURS! The Lysol Disinfecting Wipes are great because not only do they disinfect, they are disposable. Unlike a sponge, the germs get tossed out when you are down with the Wipe. And for those hard to reach areas, the Lysol Disinfectant Spray is a great way to keep germs from over staying their welcome.
Try out these great Lysol products and save, while keeping your family healthy this holiday season. Download this free printable coupon and save $1 off any two Lysol products.
This post was brought to you by Lysol, but the images and opinions are my own. For more information, please visit www.lysol.ca.