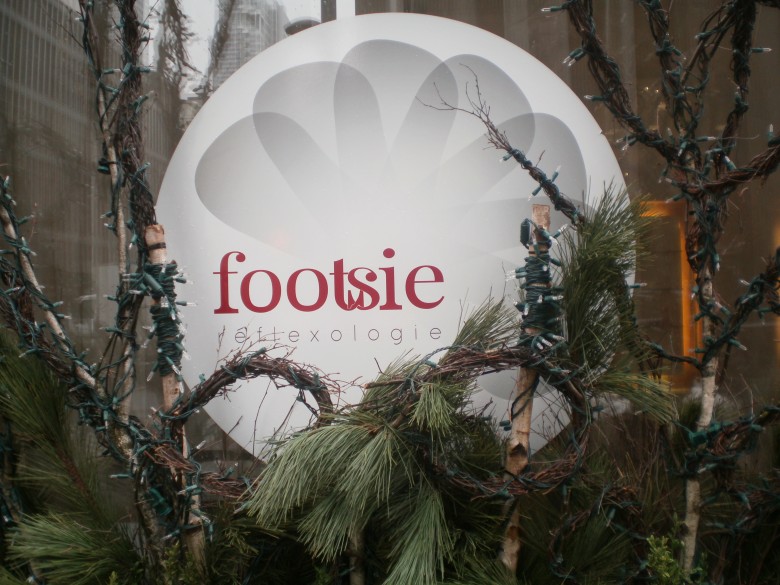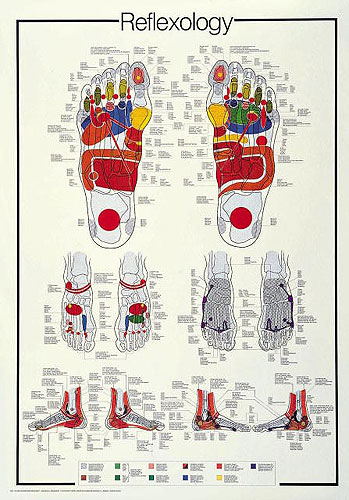 Re-flex-o-lo-gy: an ancient Chinese medicinal practice which is the physical act of applying pressure to the feet, (and hands, or ears) with specific thumb, finger, and hand techniques. It is based on a system of zones and reflex areas that are said to reflect an image of the body on the feet and hands, and that such work effects a physical change to the body — that by manipulating these, one can improve health. (Thank you, Wikipedia.)
And that's all cool and everything, but really… it just feels AMAZING. I mean, seriously – who doesn't want a foot massage?!
I was invited to come and try a treatment at Footsie Reflexology the other day by my lady-friend Karla Gomez, as a belated birthday treat. (Isn't that nice?) So I made my way to the corner of de Maisonneuve and Union to check it out. Lovely Karla greeted me with a huge smile, and showed me around the cool space, which was as serene as one might expect from a new massage place — warm, and respectfully quiet. Clean white walls and cabinetry… inviting, and not at all clinical. It was all newly renovated for it's purpose, so besides the serene decor of the environment, the added massage rooms, the steam room (built for a small group), and the showers, are all practically virginal. There's even a V.I.P. lounge room with side-by-side chairs for couples, or friends hanging a deux for the day… and the staff is happy to pre-arrange a special lunch or drinks service, if so desired. There's a definite can-do attitude in this place!
I changed out of my jeans and into a pair of shorts, so I could be massaged with more ease – this makes sense, since they work on your feet up to your kneecaps. One of the reflexologists, called Betty seated me in a deep lounge chair, and had me soak my feet in a bucket of warm water, with some Chinese herbs added to it. I felt myself begin to relax instantly as I sank my butt further into the seat, and sipped hot green tea from a little cup. Bring on the spoiling!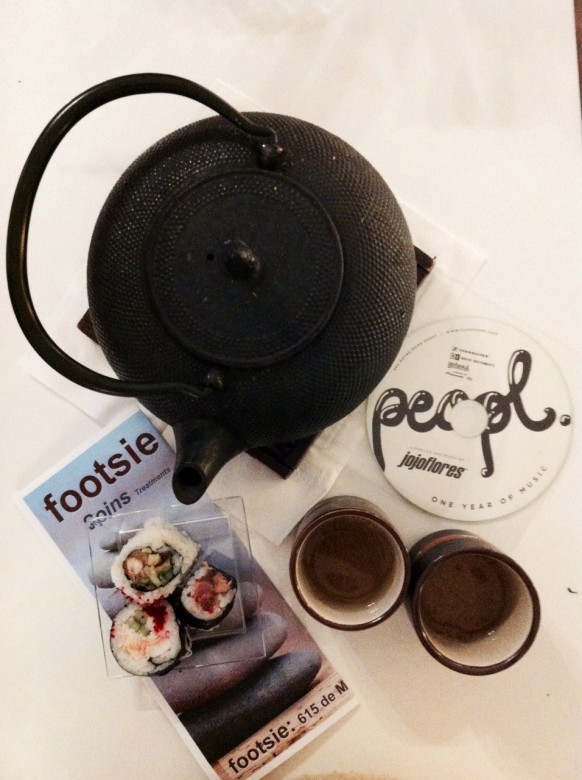 Much like regular massage, you get oiled up and rubbed down, and there are lotions and white towels, and within a few short minutes, you feel yourself begin to slump from pleasure. Betty didn't speak much English, but she was friendly and smiled at me often while she gently stroked and tugged and pushed and prodded mes pieds, once in a while uttering, "Okaaay?" And I would smile and nod yes, and she would smile shyly again, and say, "Thank you." We didn't need to talk. She did her thing, and I totally let her.
I was advised that if I felt any pressure that felt less-than-good, to please speak up – it's usually indicates internal blockage of some kind – but I didn't have such an experience at all. In fact, at the end of my time there, the Reflexology Master (with over 20 years experience, who translated for Betty, from Chinese to English) said my system seemed just fine, though my digestion could have been a little off (I'd eaten breakfast not long before) and that Betty sensed tension in my neck muscle on the left. Which of course I have – it's like a continual stress-thing I carry around in my life. (And I also carry my bag on my left arm. So.)
Did I say this thing feels amazing? It was slap-my-mama good. Everyone should go! It's got to be one of the calmest places in the city to be… in fact, about 40% of their clientele are men – lots of business men, more specifically – many of whom are going on a weekly basis (or even more frequently) to yeild the good effects of relaxation through reflexology. Many find it a great place to bring clients, too! It's a genius really, since one doesn't have to strip all the way down, nor does one have to carve out a large chunk of time for a service, if a Kwikie is all you have time for. It's like a mid-day haircut. Or getting a quick manicure. A half-session at Foostie Reflexology only takes 30 minutes. (And only costs $30. I mean, c'mon!)
And they invite new moms with babes in tow to come get pampered in this serene environment – there's enough room to bring your stroller inside, and it's a calm, stress-free place to nurse your wee one if need be. Tea and snacks come with the special – Tuesdays and Wednesdays from 10 – noon, but call ahead, since spaces are limited!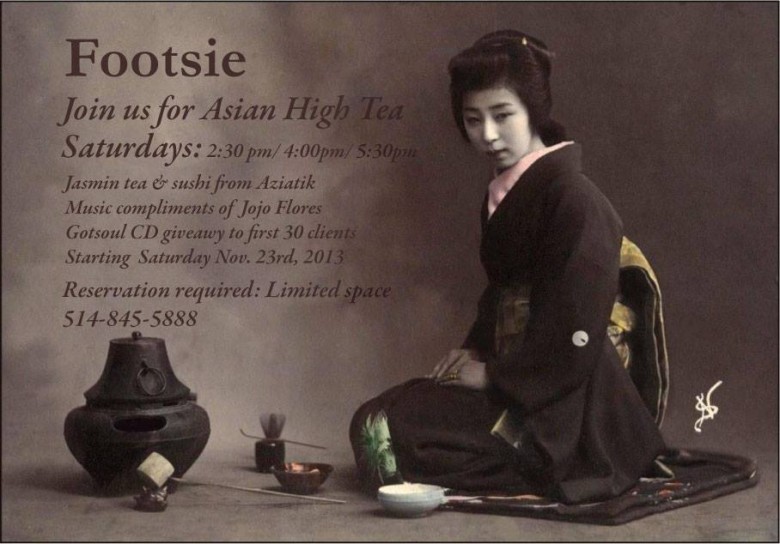 I really love this place. There's a whole menu of services for longer acupressure treatments, including a Asian high tea they put on Saturdays (call ahead to reserve) which looks gorgeous and splendid indeed. And it's a whole-health experience you will feel in your step for hours afterwards. I felt completely relaxed and buoyant as I headed across the street to The Bay, where I took my sweet time browsing, feeling a little jelly-like, and ended up buying a pair of faux-leather pants… but that's a story for another time.
Footsie Reflexology is OPEN! And you should really go, Montrealers… just pop in one day this week and treat yourself to a little pampering. Or go with a friend before or after some shopping this season – you will not be sorry! I can certainly think of a few people on my holiday list who would love a gift certificate for such an awesome treat. GO GIVE ONE!! (And tell 'em Grumble Girl sent ya…)
Footsie Reflexology is located at 615 de Maisonneuve Ouest. My service was a complimentary gift, but all opinions expressed are my own. (Go LIKE them on Facebook!)