Last year I had a wonderful experience running with other UrbanMoms for the Run for the Cure held every fall across Canada.
Beyond the monies raised and the experience contributing to a worthwhile cause, this venture forced me to stick to a exercise program to ensure I could complete the five kilometre run without a cheese sandwich break or a defibrillator incident.
Charity runs offer a great incentive to get off the couch and get active.
Thing is, I stopped running the moment I crossed the finish line.  I mean I still run for the bus or for that beloved cheese sandwich, but with my goal met, I breathed a sigh of relief and hung up my shoes.  Until two days ago.
Without the weekly basketball (we pause for the summer), my exercise regime is basically carry beer from the upstairs fridge to the dock at the cottage.  So I found another charity run, the RBC Run for the Kids in late September to give me another hard deadline to aspire to.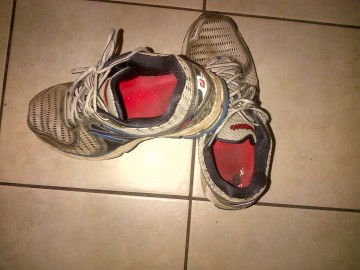 I started the classic couch to 5k program (fast forwarded two weeks , I was confident last year's runs gave me something to go on) a couple of days ago and with two morning runs under my belt I can officially say my love/hate relationship with running is back in play.
Running three times a week.  Building up to a post 30 minute 5k on September 21, 2013.  Last year's 5k was completed in 30 minutes and 21 seconds.  Damn you dog walker in front of me!
Wish me luck!