Hey parents, this just came into my "inbox" and I think it's worth sharing…especially since we've got plenty of snow this year!
This holiday season, give a Canadian Ski Council's SnowPass to your favourite grade 4 & 5 kid!
One of Canada's easiest ways to get kids healthy and active this winter is now available. The Canadian Ski Council's SnowPass is available online. It provides three lift passes at each of the 150+ ski areas nation-wide for Canadian kids who are in Grade 4 and Grade 5 for FREE! (shipping and admin fee of $29.99 including taxes apply).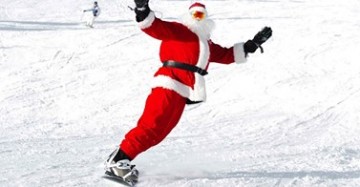 How It Works: The Canadian Ski Council's SnowPass gives kids in grades 4 and 5 (born in 2003 or 2004)  three lift tickets at each and every participating ski area all across Canada for the entire winter; providing them with an opportunity to ski or snowboard hundreds of times over the winter season, for free*.  You only need to apply once for the SnowPass and the pass is valid until the end of grade 5. This means if you apply in grade 4 the pass is valid for two years.
Applying is Easy: To sign up, visit www.snowpass.ca, and you have a choice of either uploading your child's picture, enter your payment and their proof of age, or using our printed option that allows you to fill out the information, print the application to mail in to the Canadian Ski Council with a photo, proof of age or grade and payment; all for a one-time shipping and administration fee of $29.95 including taxes.  Signing up online is the quickest and easiest way to apply for your child's Grade 4 & 5 SnowPass card.
Where to Use it: The Grade 4 & 5 SnowPass is a national program and is valid at over 150 ski areas across Canada including 32 ski areas in British Columbia, 19 ski areas in Alberta, 1 ski area in Saskatchewan, 2 ski areas in Manitoba, 33 ski areas in Ontario, 57 ski areas in Quebec, 8 in Atlantic Canada and 1 in the Yukon.  With ski areas participating across Canada, families will not have to travel far to put this SnowPass to use. Kids can easily track how many lift passes they have left by visiting www.snowpass.ca 

Grade 4 and 5 SnowPass information and applications are available online at www.snowpass.ca or www.passeportdesneiges.ca. Keep your nine and ten year olds healthy and active this season with the Grade 4 & 5 SnowPass. Order your SnowPass today using our Xpresspost option and get it in time for the Christmas holidays!
Have fun this winter!