So, this is life. We're busy women with families, volunteering in the schools, shuffling the kids to lessons and many of us depend on our mobile devices to keep us in touch and on track. If there's one thing I can't live without it would be my mobile device. It does everything these days and it has replaced my address book and daily planner. It's my music box, my phone, my entertainment (Words with Friends anyone?), my connection to friends, and my camera. I'm constantly checking out APPS that help make life easier.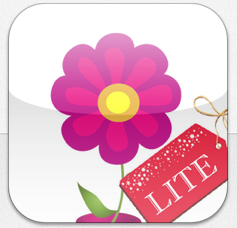 One APP that I've been using and have recommended to many of my friends is PERIOD TRACKER.  It does exactly what it says it will do. If you're looking to find out when you will ovulate and tracking your most likely days of getting pregnant (or not pregnant) it's there. Planning your vacation around your period, flash forward and it will estimate when you'll be getting it. It's brilliant.
I've been using this app for a couple of years now so it's not new but it works.
How it works? When you first download the APP you need to track your start and finish dates of your menstrual period for at least three months. Then it will start predicting periods for you. The APP will tell you how many days are left until your next period and predict for future months. The log/chart will tell you the average days between menstrual cycles. It's pretty handy! There is a LITE (free) version and then an upgrade version. I've only used the free version.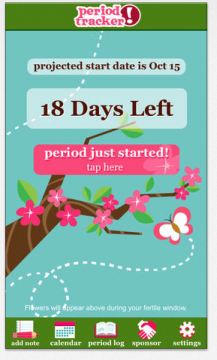 This is also a great APP for teen girls to keep track and get use to the monthly cycle and track any PMS concerns they may have.
The APP has pretty much been accurate as to when my period will begin sometimes only off by one day. You can also track pre-menstrual symptoms if you're concerned about that and then use it as a reference to discuss with your doctor.
I don't know about you but I can't keep track of everything. This has been a handy little tool for Auntie Mae's pending visit. Or however you nickname it. lol Now that I think about it…what funny names have you heard?
The images may seem a little whimsical but look past that because it's a great APP to have on hand.
The Period Tracker APP is available at iTunes and is compatible with iPhone, iPod Touch and iPad.