World-renowned photographer Anne Geddes has captured the hearts of parents around the world. Her images are distinctly recognizable with babies in flower pots or premies in hand. Recently Geddes embarked on a photo project that, in her own words, "has changed my life forever."
Anne Geddes unveiled her emotional and very moving collection of photography Protecting Our Tomorrows: Portraits of Meningococcal Disease at the Art Gallery of Ontario on April 24th, World Meningitis Day – a day that brings awareness to the devastating disease that hits fast and hard. Geddes was approached by the Confederation of Meningitis Organizations to bring attention in this collection.
"Every child is beautiful and I believe that every child deserves to be protected, nurtured, and loved." Anne Geddes
Geddes travelled around the world to meet with families impacted by this disease. "I didn't know how courageous these families really were. Doing something special for them is important to me," said Geddes. "As a photographer and mother, it was incredibly moving to meet these young people and see firsthand the impact that meningococcal disease has had on their lives. I feel privileged to be joining these survivors and their families, not just to raise awareness, but to highlight their powerful stories of resilience and also to honour those who have tragically lost their lives to the disease."
Geddes speaks about the symbolism behind the reference to the "nest" in which each survivor sits for the photo session. "The nest is referenced very subtly at times in the images and at other times more obviously. To me, a beautiful little bird's nest, and the ingredients use in its building represents love, nurture, family, protection, hope and more importantly, a deceptive strength."
15 survivors are featured in this collection from different countries and cultures. But the disease has no boundaries and it affects mostly infants, toddlers and teens. It's a rapidly debilitating disease and sometimes leads to death within 24 hours. And of those who survive, as many as one in five will suffer life-long complications such as brain damage, learning disabilities, hearing loss and limb loss.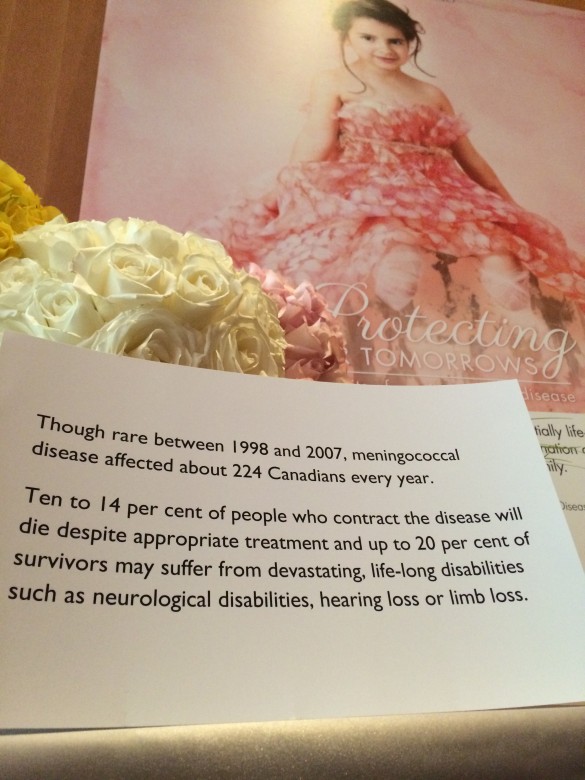 Protecting Our Tomorrows: Portraits of Meningococcal Disease is available for free eBook download at Apple iBooks and please share to raise the awareness. Link here to download: Protecting Our Tomorrows
It's important for families to be aware of  the signs of  Meningitis. I admit to having little knowledge until this event but am grateful to have met Anne Geddes and some of the families who have shared their experiences.
For more information on Meningitis and the symptoms visit www.meningitis.ca
Here's an amazing video clip about Anne's project…
[youtube id="40mt3ySjEuY"]