Halloween is a time for making awesome kids costumes, getting creative with a cardboard box and sharpening the sewing needles ahead of October 31st. Or is it?
If making your children an outfit is more of a trick than a treat, our store bought alternatives will save you time and ensure they still look ace. Whatever your level of commitment this season of scaring, we've got some great ideas for classic and contemporary kids costumes that are sure to bring back the candy (we're talking full-sized chocolate bars here!).
Star Wars
With the new Star Wars movie hitting the big screen later in the year, Halloween is a great time to kit out junior Jedi's in some great costumes. There's a lot you can do with brown material, a belt and some boots to make a cool Obi Wan ensemble but if you're feeling uber creative check out mellysews site for ideas including easy boot covers and other neat Star Wars costume tips. If you're pushed for time, order this Luke Skywalker costume for $44.99, so the force may be with you sooner rather than later.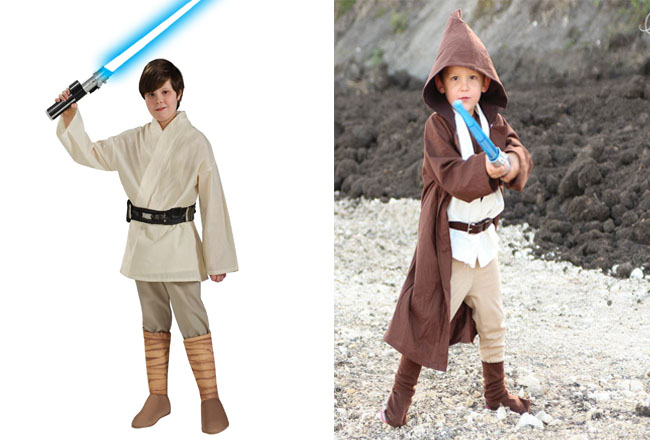 Disgust from Inside Out
Pixar and Disney's latest offering is fine fodder for this years Halloween costume. All of the movies colourful characters would be fun to try but we've chosen Disgust, voiced by Mindy Kaling. Find a green sleeveless dress and leggings, tie a pink scarf around the neck and pop on some matching pumps. You'll need some wash-out hair dye or a green wig and some green face paint. To complete the look, add a belt with the letter D and a sassy pose. Alternatively purchase the wig, dress and scarf for $24.99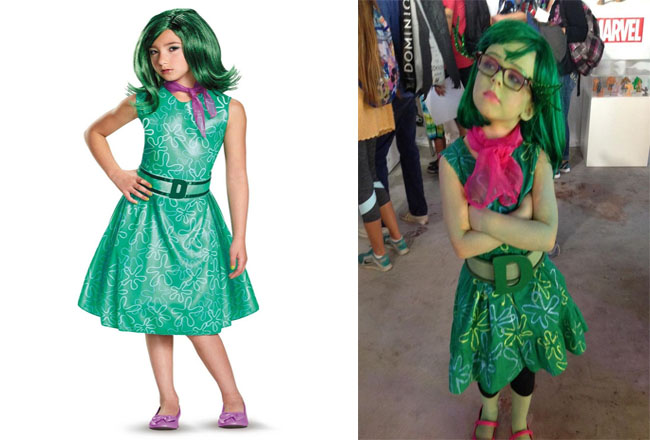 (Images via partycity.ca & Pinterest)
Pirate
This swashbuckling costume is a perennial favourite among little boys (there's something about brandishing a sword and yelling arrrr that never seems to lose its appeal). He'll likely have a pirate patch and sword in the toy box already- if not get out an old cereal box and some aluminum foil and make one. Add some battle-worthy scars with face paint, fashion a skull and crossbones and the pieces of eight (candy) will take care of themselves. This cute Toddler Ahoy costume starts at $20.99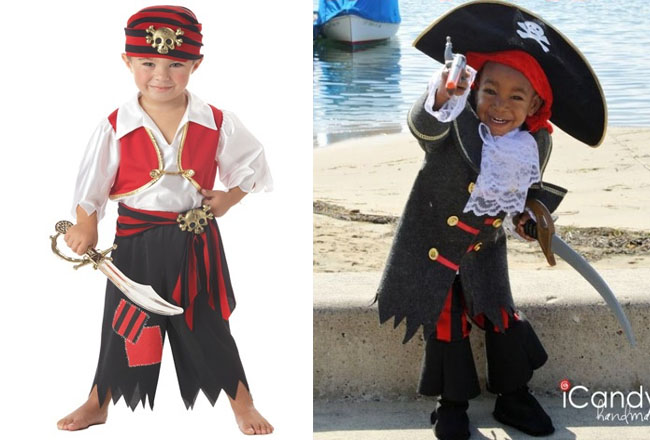 (Images via halloweencostumes.ca & icandy-handmade.com)
Crayola Crayons
If you don't mind brushing the hairspray and mousse out of you child's hair the next morning, a handmade version of this costume can be incredibly effective. Purchase a long sleeved tee and leggings of the same colour, wind a strip of black tape around the ankles and wrists and find a pair of black shoes. Make a Crayola label to attach to their shirt or for them to hold. Now comes the tricky part! Gel or spray their dyed hair into a point (you may need to backcomb) and tie into a knot on top. This works best if you can get a bunch of your kids' friends to join in as different coloured crayons! Or purchase the costume here for $35.09
(Images via Pinterest & supercostumecentre.ca)
Minions
Love for all things Minions shows no sign of stopping, so buy or make your costume this year. Get some denim overalls, a yellow shirt or hooded top and some glasses for the goggles. For the hair, you can stick strips of black paper directly to the hood or attach to a headband. Add black gloves and you're ready to wreak havoc on Halloween. The yellow-creatures certainly don't travel solo either, so grab some pals and remember–the more minions the merrier. Buy online for $21.41 at ebay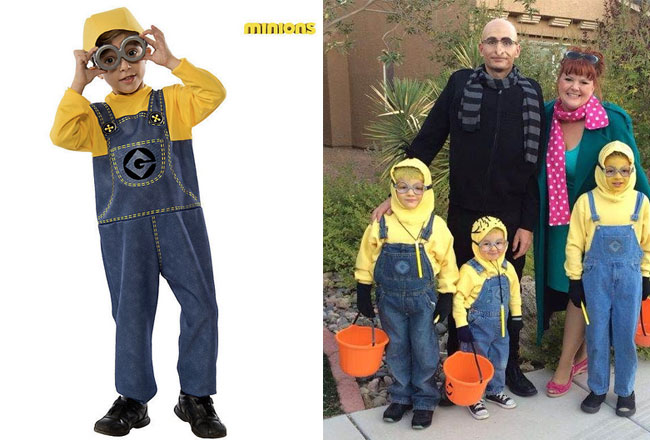 (Images via ebay.com & today.com)
Princess
Disney has inspired twirl-inducing dresses in women's wardrobes from a very young age. So don't be surprised when your little princess wants a costume that's fit for royalty this Halloween. If you're feeling like a fairy godmother you can rustle something spectacular up using tulle and strips of silk, sewn or glued to a customized white tee (singing bippity boppity boo while you work is optional). Or you can buy an outfit like Sparkle Princess for $32.95 because, let's face it, she's going to wear it more than once.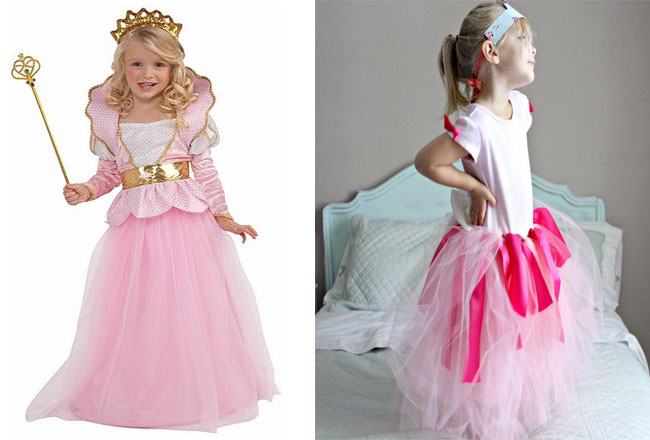 (Images via oyacostumes.ca & diynetwork.com)
Lego
These Danish building blocks never go out of style, so what better costume to construct than Lego! This is decidedly more ambitious for those of you planning to hand make a masterpiece this October. But it's an incredibly effective and inexpensive costume to make and certainly one the kids will want to get behind. You'll need to dig through the recycling, grab some marker pens to choose which facial expression to surprise your neighbours withand don't forget to make some eyeholes so you can see where you're knocking! For a quicker costume buy at Amazon for $28.95.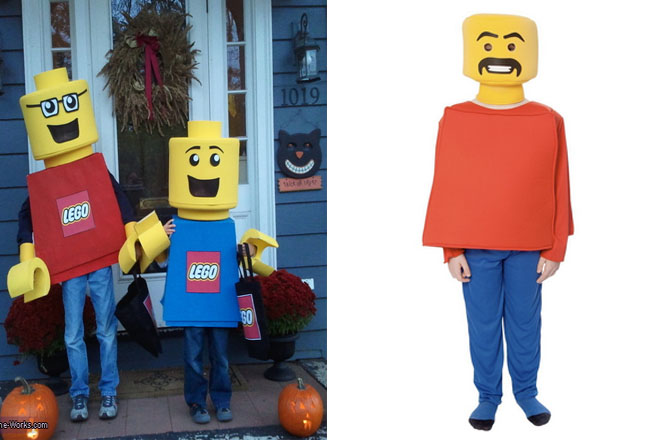 (Images via costume-works.com & amazon.ca)
Harry Potter
The wizarding series may have wrapped up a couple of years ago but kids and adults alike are still bewitched by Harry Potter and all things Hogwarts. A few key pieces can really make a great outfit – just grab a wand, some rounded specs and draw a lightning bolt on foreheads to channel Gryffindor's most famous student. A printed emblem of the house can be printed and stuck to their robe. Or if your kid is a super fan, perhaps this set ($74.85) is worth splurging on as a keepsake of the series.