Life hacking: any productivity trick, shortcut, skill, or novelty method to increase productivity and efficiency; in other words, anything that solves an everyday problem in a clever or non-obvious way.
Hey you out there! That's right, I'm talking to you: the one whose knee-deep into her impeccably timed out Thanksgiving to-do list, which includes creating a wreath woven out of the corn husks you grew on your urban farm and cooking a turkey that needs to be brined for a minimum of 48 hours before cooking.
Stop reading this post. Its not for you.
This post was written specifically for all us procrastinators who "forgot" they'd invited two couples and their combined five children over-along with two nieces-for a combined 15 people. Forget about defrosting The Turkey. This post is for those of us who haven't even started to write out the shopping list. This is the post you won't read about in any fancy-shmancy magazine or watch on the Food Network.
This post is how to hack Thanksgiving.
I know that "cheating" your way though Thanksgiving may seem a bit counter-intuitive. After all, Thanksgiving is supposed to be about getting back to our roots and doin' it like the pilgrims did… which was certainly not easy. But believe me, if our foremothers could've bought their butter at the store instead of churning it, they would've.
How to Hack Thanksgiving
1. Instead of the whole bird, cook just the breast and a couple drumsticks. Way cheaper, way faster, way easier to carve, and it won't take up your entire fridge. Try this rub:  1/4 cup butter, melted,  2 tsp salt, 1 tsp pepper, 1 tbsp. chopped fresh sage, 1 tsp paprika.
1b. If you know that there's gonna be a fight over the drumsticks, buy more. Problem solved.
2. Having a tough time choosing between Brussels sprouts and green beans? Don't serve either. Let's face it; next to the turkey, potatoes, and the rest of the fixins, no one ever eats the green vegetables and you end up being stuck with a bowlful of soggy brownish-green leftovers. Instead, let you guests get their greens by serving veggies and dip during the cocktail hour and a spinach salad and this coleslaw with the meal.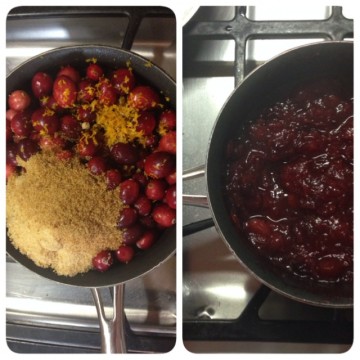 3. Make your own cranberry sauce. First of all, so easy. Second? You can get away with pretty much any other shortcut once people know you're the kind of woman who makes her own cranberry sauce. All it takes is a package of fresh cranberries, the juice and zest of one orange, 1/2 cup of brown sugar, and a half hour of slow simmering.
4. After you've gained your guests trust with the cranberries, hit them up with a delicious doctored-up version of store-bought dried stuffing. Very few of us have the time to bake cornbread, wait for it to cool, and then cut it up into perfect 1-inch cubes like Miss Martha recommends. Instead, before just adding water, sauté a couple leeks, apples, and mushroom and stir them into the mix.
5. Gourds: the world's fastest, cheapest, and prettiest centerpiece.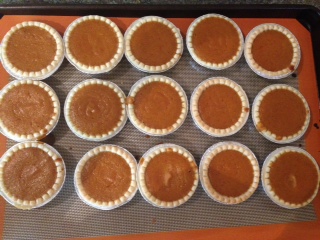 6. Individual tarts instead of a whole pie. Cooks in less than 1/2 the time, is easy to package up for doggie bags, and best of all, allows you to taste one before dinner to ensure they're ok. Try this filling for Martha Stewart's Maple Pumpkin Pie recipe. It's the best I've ever made.
7. What to serve with the pies? Mixed berries with a tablespoon each of sugar and balsamic vinegar. It is a snap compared to trying to make a pretty fruit plate and the syrup the sugar and balsamic create will make you look like a culinary rock star.
There are tons of other tips I could give you to help you hack Thanksgiving, but I've got to get cooking. Happy Thanksgiving, y'all!
What are your favorite Thanksgiving hacks? Or for that matter, any other cooking hacks?