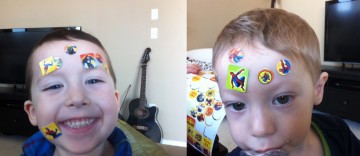 I have two boys, and I have lots of friends and family members who have girls, so there's often an even representation at my house most days. I mention that because there is nothing better than watching and overhearing kids play together. From these play dates, I've noticed there are some subtle and some not-so-subtle differences between the two sexes. I know some of the differences are stereotypical but nonetheless, I've see it day in and day out in my busy household and it always makes me chuckle.
Here are a few funny things I've noticed at my house:
Just yesterday I heard my niece and son playing, and my niece said she wanted to be 'Katy Perry', my son wanted to be 'Spider-Man'. My boys don't know anybody in pop-culture if they don't wear a mask; they know Spider-Man, Bat-Man, and that's about it. Here are a few other subtle difference between boys and girls (at least in my experience):
Girls use a slide the traditional way. Boys heave their toys down a slide and aren't happy until they break.
Girls put fake tattoos on their arms. Boys put them on their faces.
Girls put stickers in their books. Boys put them on their faces.
Girls can sit for 10 seconds while you take a picture of them. Boys don't. (I have more pictures of the back of their heads then I know what to do with.)
Girls turn everything into a game. Boys turn everything into a weapon.
Girls draw in their colouring books. Boys draw on the walls.
Girls play with play-doh. Boys eat play-doh.
Girls like to wear pretty dresses. Boys like to wear a cape.
Again, I know these are somewhat stereotypical but they all happened in my house. In fact, I wasted half a bottle of vinegar trying to get my sons interpretation of a Jackson Pollock-like crayon piece off my kitchen wall over the weekend.
On a side note, we asked our boys if they were to get a new baby brother or sister what names do they like? (Dad, I know you read this blog… we have no news… haha. It was just a dinner conversation.) Anyways both the boys came up with great girl names.
Travis likes the name "Gemma".
Rory likes the name "Bathing suit".
As I said (Dad) we have no news, but if we ever do, how do you feel about the name "Bathing Suit Parker"?