At the young age of 10 years old, Hannah Alper  has been called the future of social media. She is making adults and kids stop and think with her blog CallMeHannah.ca and she's getting ready to take centre stage at this year's WE DAY with Free the Children. Hannah has become an engaged global citizen seeking to further her own understanding of her connection to and responsibility to the world. Believing that even the little things that we do add up to make a difference, her journey and discovery meet her call to action through her blog.
Hannah will be joining the stage this coming WE DAY in Toronto, September 20th along side Col. Chris Hadfield, Martin Luther King III, Spencer West, Molly Burke, Demi Levato, Jonas Brothers, Austin Mahone just to name of few.
I had the fortunate chance to ask Hannah a few questions as she prepares for this incredible event.
How did you first become involved with Free the Children?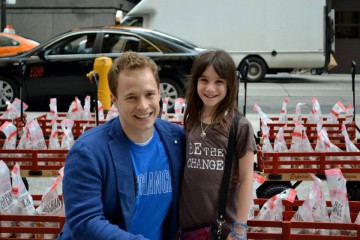 It's a good story. Not a lot of people learn about Free The Children the way that I did. I was working on a post for my blog about making eco-friendly cleaning supplies and I was looking online for ingredients and recipes. I found an article about Marc Kielburger. When he was in Grade 7 he did his science project about non-toxic cleaning supplies. He didn't know what he was going to do for his science project and he was helping his mom with the chores and saw that on all of the cleaning supplies were warnings about them being dangerous and hazardous and he wondered why we use these things to clean our homes. So for his project, he made his own with vinegar, baking soda and water. That's what I was trying to do too. Not a lot of people know that about Marc and that that was his first spark.
At the end of that article it talked about Craig and Free The Children. I followed the links and kept reading. They were saying what I was beginning to realize – that I, that any young person – can make a difference. 
I went to We Day last year and got more involved. I launched We Create Change at my school to collect pennies for clean water projects. $25 in pennies would give clean water to one person for life. In a lot of places girls can't go to school because they walk for miles to get clean water for their family. The water that they bring back is dirty and can make them sick. The clean water projects gives them safe water and also the chance to go to school. At my school and another school in my neighbourhood, we collected 97,500 pennies and gave clean water to 37 people for life. I saw that I could be the change and motivate others to join me.
You've had the chance to experience camp with Free the Children this past summer, what did you love about it?
I loved everything about Take Action Camp. The people were amazing. We had so much in common right away because we were all involved with Free The Children and we were all passionate about what we were doing. We had a reunion last weekend and it was so nice to see so many of my friends. We also learned a lot about social action, social justice and how we can take action.
What are some ideas you would like to share with other kids your age about volunteering?
Find your spark – that thing that you are passionate about and do something. Sometimes, there are not a lot of things that you can volunteer for when you're young because for some things you have to be 16. But don't let that stop you. You can do things as a family. There are also things that you can do anytime like organize a cleanup in your neighbourhood. I did the Shoreline Cleanup last year and we collected 10 huge bags of garbage along the trails near my house. Last weekend I went for a bike ride with my dad and we brought some bags and gloves and cleaned up litter on the bike trail. That's not officially volunteering, but it's doing something and making a difference. 
Find your spark – that thing that you are passionate about and do something.
Do you plan on taking any trips with Free the Children?
YES! I really want to go to Kenya. I've heard so much about Kenya and I've read a few books about it. I want to go and help build a school and see the water projects that they built there from We Create Change.
You're going to be speaking at We Day this year, and I think you'll be the youngest to ever speak on this day. How are you preparing for this big day?
Practice. A lot of practice. I say my speeches to my parents. I have someone that is working with me from Free The Children too. Kim is helping me a lot with how to present my speeches.  I'm speaking on the We Day Stage and also at 3 other WE DAY events. The Evening of Champions is the night before We Day and it's for youth who have been really involved in a big way all year with Free The Children. The morning of We Day I'm speaking at a breakfast for Educators. Then, the night of We Day, I'm speaking at a special dinner.
You're going to miss some school, I hear, so, how will you keep up the school work?
Yes. I am going to miss some school. My teachers and my Principal are really supporting me a lot. I'll do homework while we are travelling. It's a lot of back and forth travel for We Days across Canada, so I won't be gone for weeks. There are some weeks that I'll miss a few days, but I'll keep doing the work that I'm missing. Some of the work that I'll do will be different than what my class is doing. My teacher wants me to keep a special journal about what I'm doing.
What performers/speakers are you most excited to see at We Day?
That's not a fair question. Everyone keeps asking me that. There are so many great speakers and performers and they're all so different. The keynote speaker at WE DAY Toronto is Ellen Johnson Sirleaf. She is the President of Liberia and the first female leader of a country in Africa. She has a great message. She believes that young people, especially girls, can be anything they want. She has proven that and is a role model for so many girls in her country. She believes that obstacles and challenges are opportunities to go higher.
I'm also excited about Demi Lovato and The Jonas Brothers. I love their music and also they are both really big supporters of Free The Children. Demi Lovato and Joe Jonas were both in Kenya this summer on Me To We trips.
Also, I love seeing Marc, Craig, Spencer and Molly speak. When they get up there on the stage, they make everyone in the room inspired and motivated. When Marc and Craig go on the stage – it's one of the best moments of the day. The crowd is so loud for them.
Anything else you want kids and parents to know?
I can't give away any secrets, but I want to tell you, It's going to be awesome. Be ready to be amazed, inspired, motivated and empowered.
If you don't know what WE DAY is, here…
[youtube id="7jTqzWpXITM"]
BIG THANKS to Hannah Alper for taking time out of her busy schedule for this interview! I'll see you at WE DAY in Toronto!