Our family is hitting the road this week, and getting away gets a little easier with each trip. Over the last couple of years, I've developed a customizable packing list and I make a copy up for each kid to pack his or her supplies. Once they've everything gathered, I'd pack it up into family luggage.
This time around, to make the kids more invested in the experience, each of them has been given their own bag. They're responsible for making sure everything that they need is in that bag and for getting that bag into the car at departure time… a lesson learned the hard way by my teen son who arrived for a long weekend in Cooperstown, NY last year with only what he was wearing. We relented on our hardline ways in that case and bought him a t-shirt and deodorant.
When choosing a "getaway bag" for anyone (yourself or your kids), consider the three "F"s:
Function: Is it big enough to fit everything I'm going to need? A certain number of pockets are good, too many and you'll end up losing things in them.
Fit: Is it comfortable enough to be carried by the owner? For children's bags in particular, the bag needs to be lightweight when empty, and the straps need to be adjustable (you do not want to end up being "that" parent lugging six different bags).
Flare: Does the owner like it enough not to leave it behind in an airport lounge? Maybe the logo-emblazened look just isn't to your liking, but if the Maple Leafs crest all of your son's bag makes him proud, then I'm sorry for him, but at least he'll look after it.
For my daughter, this awesome sleepover quilted duffle from Pottery Barn Teen fits the bill, and it's on sale right now for under $75. She loves how bright and cheery it is, I love the pockets (inside and out) for all of her treasures.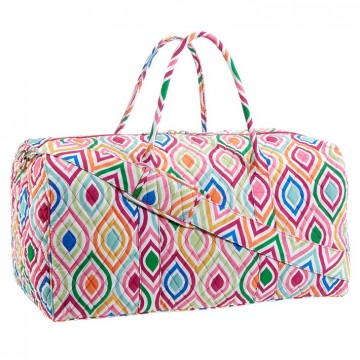 For my sons, I headed to Lands End. They both chose the black version of this duffle bag, so I had them monogrammed with their initials to keep them from getting mixed up. This duffle's around $75, too, and wears like iron. It's got convertible straps that allow the kids to carry it on their backs.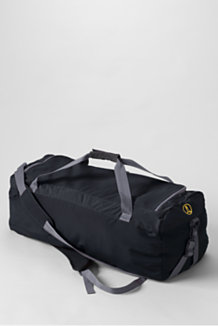 I'd planned on buying my husband a nice Roots leather weekender bag for his birthday, but when he saw the boys' bags, he actually requested one to match theirs. I used the money I saved to buy myself a new outfit, towards the vacation budget.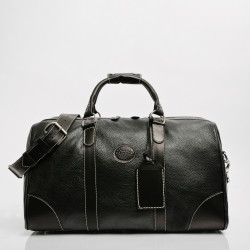 And me? Thanks to a very generous gift, I'll be travelling in style with this fantastic Longchamp expandable travel bag. It's durable, lightweight, sturdy. I love the cross body strap to keep my hands free to fish for passports or fill out custom forms. There's a zipper that adjusts to an even larger size for all the souvenirs I'll bring back.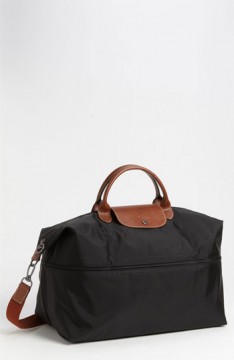 These are the carry-on bags, and then we use one family "checked" bag for all of the toiletries, sunscreen, first aid kit, beach toys, etc.
There's a bag to fit every budget and every style, but investing  a little into the bag that works for each individual will ensure a little more enthusiasm from the kids when it comes time to packing.