"Did you find it? The hint says 'orange is almost the mark' and it's 30 ft away from the beach walk but watch for muggles! Wait, I see something orange! I see something orange!"
If you're already a Geocacher you will already understand why we're extremely excited. Geocaching may just be the best discovery activity that we've come across and you can participate at home or on vacation.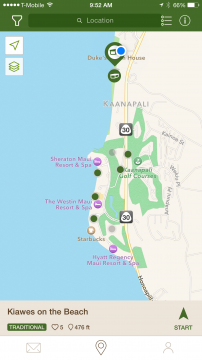 What is Geocaching? Think of it as a global scavenger hunt. It's an outdoor adventure where players use an app or GPS device to find cleverly hidden containers. Geocaches are hidden in all sorts nooks and crannies in public spaces waiting to be discovered. More than 2.5 million Geocaches are hidden in over 180 countries. Storage containers as small as Altoid boxes and sometimes even as big as walk-in caves are strategically located in busy and remote locations. Level of difficulty depends on your sleuthing abilities. Some are filled with trinkets (one case we opened had friendship charms so we took one and replaced our take with a TTC fare token from home and went into the app to let others know what it is) and most of them also include a log for journal entries. It's all about the hunt and the bragging rights.
How do you participate? First download the Geocaching App (free) and join as a member and turn on your locations settings when you want to actively look for a Geocache. Maui and Kauai had many to find. One of ideas behind Geocaching is to learn something about the area you're visiting… that's the real treasure in my eyes, stuff that guide books may not tell you in detail. We learned about Kiawe trees on Maui with one search. And fire ants on another.
The app offers clues, GPS based coordinates, level of difficulty and terrain description to geocachers. You can also keep track of your activity and successes. If you're keen you also can add on friends you meet along the Geocache trail. Note: best to grab some sort of roaming package from your service provider if you're planning on doing this while on vacation. Most of the locations will not have access to free wi-fi.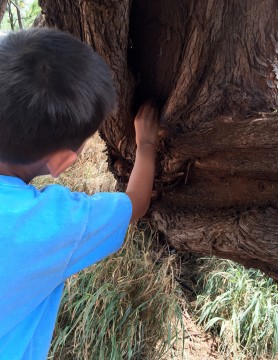 We happened to meet a fellow Geocacher and doctor while searching one day along the stretch of Kanapali Beach. He told us he does this during his break time between his research studies and mentioned that he's been doing this for years logging in hundreds of finds along his travels. It's fun for everyone: friends, families, couples and  single explorers. If you're in a hot spot like the islands of Hawaii you'll probably come across another Geocacher at some point!
Geocachers have a language of their own: Muggles are the general public who have no clue what you're doing as you turn over rocks and reach into strange crevices; Travel Bugs are special finds within the caches that you are welcome to take and plant elsewhere preferably far away!
There's also a respect and etiquette that everyone is expected to follow including if you're taking a trinket make sure you leave one behind as well and always return the Geocache to the way you've discovered it so the next person will have the same joy and discovery experience. Of course, don't give away any secrets!
Who plants and maintains the Geocache? Anyone can create one and log it into the site leaving clues for others to find. Generally, the person who plants one also keeps it maintained. Geocachers also log in messages on the app to inform the owner of the Geocache of it's condition.
Today there are more than 10 million people searching for Geocaches around the world and don't be surprised to find some near you. The site also informs of major events globally for Geocachers that are worth checking out. We're completely hooked not just for when we travel! We've noticed there are some within the city so guess what we're doing when we have a no-camp week?
NOTES: Geocaching requires your GPS to be on to find them if you're using your mobile device. It's a good idea to sort out your roaming plans before embarking on your fun. On this trip I had secured a Travel Pass through my service provider, Telus. Also, I was able to put the Apple Watch to the test as I had noticed that Geocaching has adapted to this device so we were able to use the it — less obvious than pulling out my phone in quieter areas!
Wanna play? Check out geocaching.com for more information!
If you're a Geocacher I'd love to know the coolest geocache you've discovered! Please!