Have I ever mentioned that I don't have much hair?
Yes, well… hence: ACCESSORIES.
They're for accessorizing. Do not underestimate this. It's the fastest (and often lest expensive) way to change up your look, be it with hats, belts, or bling. Or glasses.
Like these semi-silly hipster readers. They're just glass – not prescription. I picked them up over a year ago, but I break them out once in a while. We're currently in an ON phase.
Glasses change EVERYTHING about your face, obviously. Just think about what a pair of these does for Superman! Suddenly, that badass is in disguise, and no one has any idea of who he is… it's amazing. And it's such an easy thing to do. It's like wearing your hair up, when you normally wear it down. Or switching up your earrings and things.
I sometimes use them as my writing glasses, since I feel different when I wear them – this sometimes helps me focus when I feel distracted, or unmotivated by being in the same chair, trying to get through the same stuff every day.
*exhales*
Okay… they're really for sex. You know, for fun. Plus, they really help amp up that dirty teacher/librarian game… C'mon. It's back-to-school time and there's no shortage of rulers and red apples around here, man.
(Whut? Don't look at me like that.)
Anyway, with these on, I feel a Serious Person.
I mean, don't I look serious?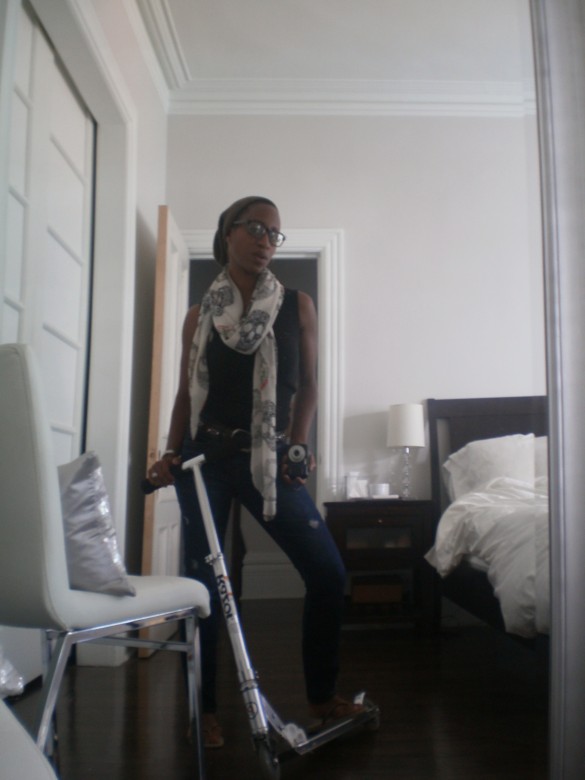 *snort*
Autumn is upon us… break out your accessories and play. It's fun!
tortoise shell readers – Forever 21, $6