Something I'd been searching for was a pair of black moto-style boots, but not ones that would prove too heavy or too clunky-looking on my ankle. I've had my eyes peeled for some time, so when I was at the Nine West store a few weeks back, when I bought this excellent pair of mary janes, I had a gander into the boot section and quickly fell in love. *swoons*
They were perfectly sized and shaped – not too roomy around the ankle, not too short, nor too tall… supple black leather one can't help but run one's hands over and purrrr… and 30% off that Thanksgiving weekend. WIN!
When I bought the shoes, I figured that was really enough money spent for one day. And then an accumulation of hardships caught up with me, and I marched back to the store and bought me some pretty. Because that's just the way things have to be sometimes, dammit.
I've been wearing them practically all the time, trying to beat the hell out of them, and wear the "newness" right off. They look darling with just about everything. And in the case of this straight-neck black sweater (which has a not-obnoxious silver thread running through it) they finish off my outfit, making me look pretty much how I feel: severe and unfriendly.
(Just kidding.)
I do like this neckline though – different from other sweaters I have, with a bit of a bat-wing at 3/4 length, the fit feels more architectural than say, a simple crew neck. Plus it makes my head seem like it's just floating… and these dark wash skinny jeans are so dark, they almost read as black. This look could be broken up with a neon sock or something… I should get on that.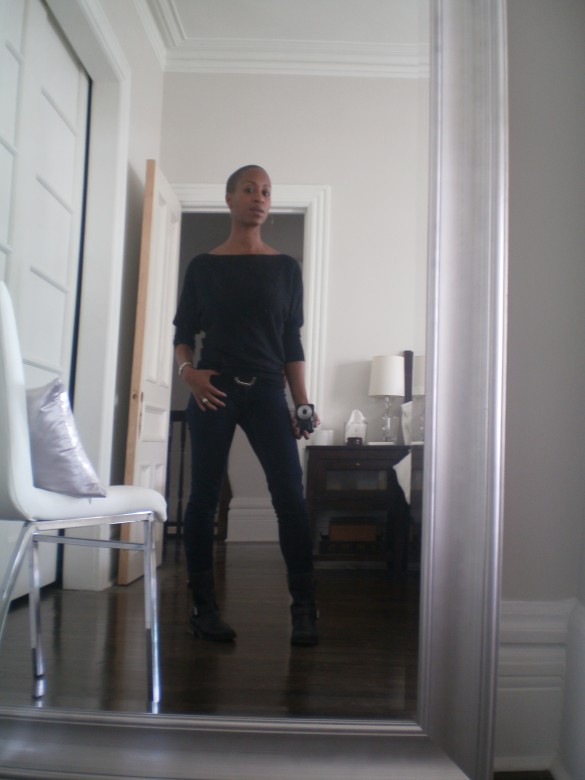 Add toque, jacket, and adorable handbag, and let's go do something dangerous… I feel like wrecking some stuff.
black straight-neck sweater – Forever 21, last year
super-dark skinny jeans, Blue Spice – Winners, $30
black moto boots, Semia, Enzo Angiolini – Nine West, $225 $158 (sale)