I'm basically in accessories mode, a) because it's autumn, and it's time to break out all the cool stylin' tricks, and 2) because my anniversary was a month ago, and you know what Martin and I gave each other? BRICKS. (Totally romantic, yo – a timeless classic, one might even say.) Growing kids have actual needs, while their muther really only has wants. I can't buy everything. (This is the part where you play the sad trombone for me. Womp-womp.)
But!
On my growing list of needs wants are belts for a few different applications, and such a one came into view as I was shopping at the place that rhymes with Sinners recently. I'd been looking for something to wear in a camouflage motif – not necessarily pants (not that I'm opposed when of the right fit, mind you) but something wearable and useful. Oh HAI, belt! Aren't you cute with your fancy silver letter "G" and everything, which I suppose stands for Guess, but everybody knows it really stands for Grumble Girl… 
Camouflage: it's not just for hunting. If you go easy with it, it goes with all your denim, browns, khakis, and greys. (I had a feeling she'd be darling alongside that jaunty teal handbag, too.) SHE WAS!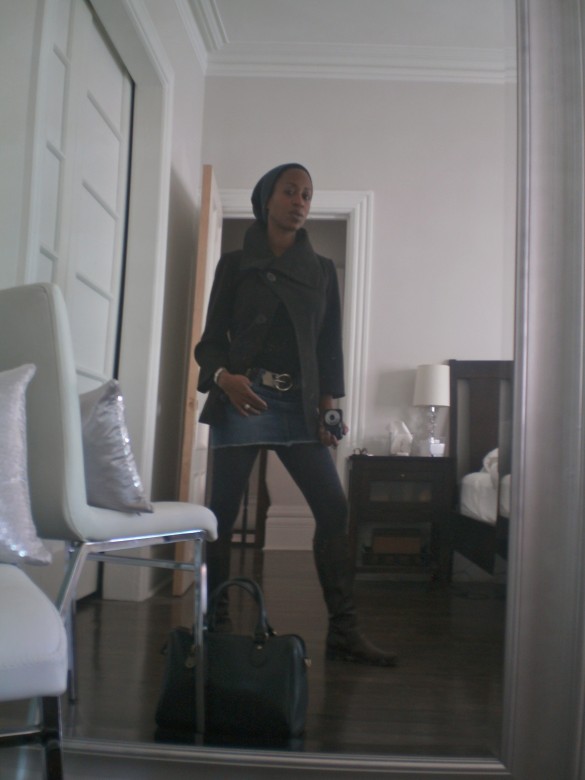 And so we came home together and made love.
THE END.
PS – now that I'm wearing tights with this tiny denim mini (unlike last time) I don't care how high it rides, because 1) I'm wearing a jacket and looking all proper and whatnot, b) you can't see any of my lady-business – because, tights, and 3) who really cares? Not this guy. Please yourself, muthers – wear what you dare.
grey knit slouchy toque – Forever 21, $8
black sleeveless knit top – Jacob (ancient)
brown bracelet length jacket – Bedo (ancient)
denim mini skirt – Garage (ancient)
camouflage belt, Guess – Winners, $19.99
grey cotton tights – Forever 21 (last year)
brown leather riding boots – Aldo (last year)
jaunty teal handbag, David Jones – Winners (last year)